Latin America Conference 2017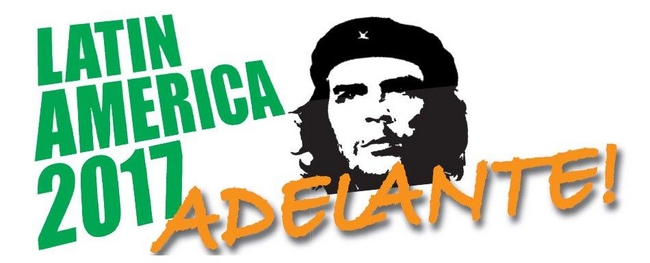 Congress House, London
Saturday, 2 December 2017, 9:15am
With countries across in Latin America facing a resurgent right and the threat of intervention from Trump, this year's Latin America Conference will be the most crucial yet. Over 50 speakers are set to speak representing progressive movements and governments from across Latin America, alongside politicians, journalists, trade unionists and campaigners from the UK around the world.
Speakers include:
● Ken Loach ● David Choquehuanca Cespedes, Bolivia and ALBA ● Egle Sanchez, Venezuelan TUC ● HE Teresita Vicente, Cuba ● HE Carlos Abad, Ecuador ● Victoria Brittain, journalist ● Chris Williamson MP ● HE Rocio Maniero, Venezuela ● George Galloway ● HE Roberto Calzadilla, Bolivia ● Ken Livingstone ● HE Guisell Morales-Echaverry, Nicaragua ● Ben Chacko, Morning Star ● Julia Felmanas, Brazil ● Tony Burke, Unite ● Lauren Collins, academic ● Jeremy Dear, Int. Journalists Fed. ● Lindsey German, Stop the War ● Kate Hudson, CND ● Sally Hunt, TUC ● Tony Kapcia, academic ● Grace Livingstone, author ● Christine Blower, NEU (NUT section) ● Pablo Navarette, Alborada ● David Raby, academic ● Sian Errington, Stand up to Trump ● Francisco Dominguez, academic ● Bernard Regan, CSC ● Derek Wall, Green Party ● Colin Burgon, former MP ● Doug Nicholls, GFTU ●
Waged tickets are £10 and can be purchased online here
Unwaged tickets are £8 and can purchased online here
Or call 0207 490 5715 to pay by card or pay by cheque payable to CSC (Latin America 2017,) and send to CSC c/o Unite, 33-37 Moreland Street, London, EC1V 8BB.
FACEBOOK: Invite all your contacts to the event on Facebook here and share this link to the event regularly on your profiles and pages.
TWITTER: Spread the word on twitter - Follow us on twitter at @Latamerica17, re-tweet our conference announcements and send your own messages linking to the event!
For more details and further information contact: office@cuba-solidarity.org.uk
The Conference takes place on Saturday December 2, 9.15am registration for 10am start, Congress House, 23-28 Great Russell Street, London, WC1B 3LW.
---