Cycle Cuba Challenge: The Revolutionary Rebel Route 2017
27 April - 9 May 2017
The Cycle Cuba Challenge is a fantastic way to experience Cuba, to raise money for essential educational equipment for young Cuban school children with disabilities and support the vital campaign work of the Cuba Solidarity Campaign at the same time.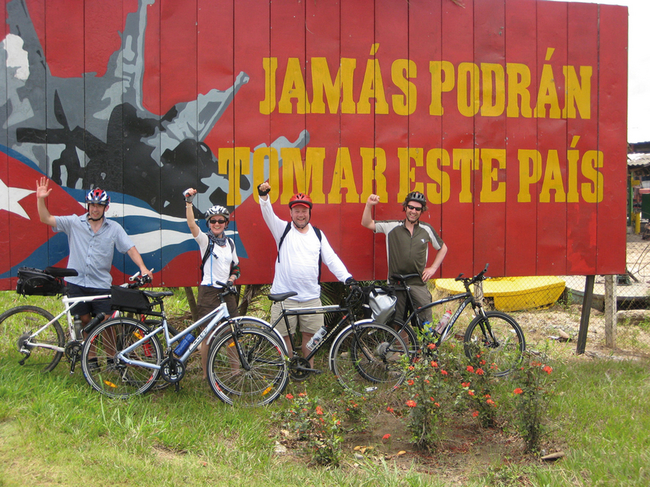 The experience of a lifetime. Break the Blockade with the CSC Cycle Cuba Challenge.
Raise vital funds and deliver essential educational aid direct to Solidarity with Panama School for young children with physical disabilities in Havana. Cycle 310 exhilarating km to the salsa beat through Western Cuba - along quiet roads through breathtaking scenery.
From Soroa to Cayo Jutiás and back to San Diego de los Baños climbing to the remote and rugged La Güira National Park to visit Che Guevara's secret underground HQ during the 1962 October Missile Crisis. The route passes through the lush forests of Sierra del Rosario, the tobacco fields of Pinar del Río following the Viñales Valley, with its soaring limestone mogotes, onto the Gulf of Mexico with it's pristine white sandy beaches. We cycle to the salsa beat through dramatic scenery and along quiet rural roads away from the usual tourist trails, with opportunities to experience vibrant Cuban culture at first hand. In Pinar del Río, the provincial capital, we have a special invitation to participate in the inspiring May Day Rally alongside thousands of Cuban workers with flags and banners flying high. From the finishing line we return to Havana, the salsa capital of the world, for further exploration of this fascinating capital city and to celebrate a wonderful group achievement with our famous celebratory meal at an authentic Cuban restaurant.
Unique specialist visits and guided tours provide a unique opportunity to discuss the achievements of the Cuban Revolution with Cuban specialists and the opportunity to experience vibrant Cuban culture close up. Go on, grab the experience of a lifetime and register today!
To be part of the Challenge complete the forms and send with your registration fee of £250. (2 people registering together pay only £150 registration fee each). You will then need to raise the minimum sponsorship (£2699).
The minimum sponsorship includes costs of international flights, visa, accommodation, most meals, visits, support team, English speaking guide. Extra charge for Single Room Supplement.
You can watch a short film made by one of the 2013 Cycle Cuba Challenge participants below.
---