Fear of the unknown – Trump and Cuba
Winter 2017
What do the next four years hold in store for Cuba-US relations? CubaSí editor, Natasha Hickman, looks at the best and worst scenarios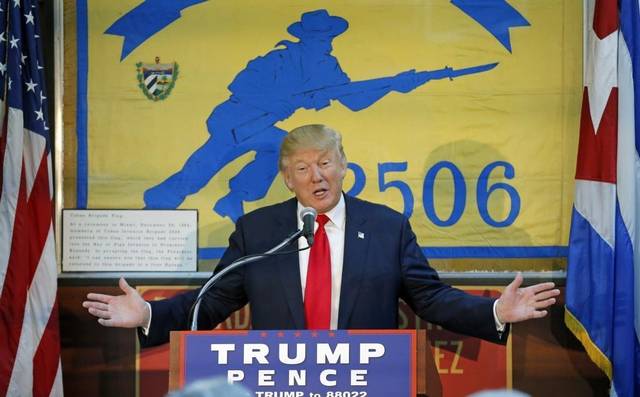 CubaSí went to press the day before President Trump's inauguration. In common with US-Cuba experts from diplomats to academics and solidarity activists to press pundits, the Cuba Solidarity Campaign could only guess what his first action on Cuba might be.
If his Twitter stream is any indication, things do not look good.
In the lead up to Trump's inauguration, the Obama administration had been working to sure up the outgoing president's legacy and to try to make the policy of engagement with the island irreversible.
Of course there are fundamental flaws in this policy: the blockade remains, Guantánamo Bay is still occupied territory, and the US government is still pursuing policies of regime change; but compared to the previous 50 years of open hostility and aggression the new rapprochement and warming relations have been welcomed by CSC and more importantly by the people of Cuba.
In the two years since the historic 17 December statements announcing the reestablishment of relations, embassies have reopened, direct mail resumed, travel expanded, limited trade allowed, and in March 2016 Obama became the first US president to visit Cuba for 90 years.
The US-Cuba bilateral commission has had five meetings and signed 11 non-binding agreements and memoranda of understanding in areas of mutual interest ranging from health, environment, disaster management, education, narcotics and joint working to prevent oil spills. Clinical trials to test Cuba's lung cancer vaccine in the US, protection of coral reefs and direct flights from many US cities to Cuba have been agreed. Agreements supported internationally, in Cuba, and the US.
From 18 January, just two days before Trump takes office, 'artisanal' charcoal produced by Cuban cooperatives will become the country's first export to the US for more than 50 years.
And most significantly for the normalisation of relations was the 12 January announcement that the US was ending it's infamous 'Wet Foot, Dry Foot' immigration policy and Medical Parole Programme. Finally putting Cuban immigrants on a equal footing with others from Latin America and ending a policy that Cuba has condemned for encouraging dangerous migration and brain drain.
But what happens to these agreements after 20 January 2017 is anybody's guess.
John Kirby, vice president of Alaska Air which began its first flights to Cuba on 5 January was asked at the flights' press launch if the incoming Trump administration might change the rules?
"Your guess is as good as mine at this point," he replied.
Both sides of the blockade lobby are doing all they can to reach the incoming president.
At a White House event to mark the anniversary of the re-establishing of relations on 17 December, Obama urged those gathered who favoured normalised relations to "carry forward the work of strengthening our partnership in the years ahead."
Secretary of State John Kerry focussed the Americas' section of his "exit memo" on the administration's Cuba policy writing that for over fifty years the policy of trying to isolate Cuba had failed, and indeed backfired as "it was often the United States – not Cuba – that was left isolated by this policy." He concluded "greater engagement will serve the interests of both the American people and the Cuban people."
More than one hundred new Cuban small business owners signed a letter to Trump appealing to him – "a successful businessman" – making the argument that normal relations were "important for Cuba, for the Cuban entrepreneurs and for all of our families".
In Cuba, Josefina Vidal, the foreign ministry's chief negotiator on Cuba-US relations said that "Cuba would hope the new US government takes into account the results we have achieved... that are backed by the majority of the Cuban population (and) US citizens."
And in Congress the 'Freedom to Travel to Cuba Act' sponsored by Senator Jeff Flake (AZ), now has 53 cosponsors who will attempt to push the bill through the Senate in 2017.
If Trump is sensitive to US business interests in Cuba it would be hard for him to turn back the clock. Business is in favour of improving relations, US companies such as Google, AirBnB, United Airlines and others are already working with Cuba and others are registering their trademarks in Havana looking to a time they may be able to trade freely if the blockade ever ends. Trump himself is reported to have sent associates to Havana in the 1990s to investigate potential hotel opportunities.
However his statements during the presidential election indicate that he is anything but sensitive on the issue.
On the campaign trail he courted the hard line vote in Florida. In a rally for right-wing Cuban Americans in September he said: "All the concessions that Barack Obama has granted the Castro regime were done through executive order, which means the next president can reverse them – and that I will do unless the Castro regime meets our demands. Not my demands. Our demands,"
His vice presidential nominee, Governor Mike Pence, went even further, saying: "When Donald Trump and I take to the White House, we will reverse Barack Obama's executive orders on Cuba".
On 25 October he addressed the Brigade 2506 Bay of Pigs veterans association where he was presented with an award and the group's first ever presidential endorsement.
Just days after Fidel Castro's death he tweeted: "If Cuba is unwilling to make a better deal for the Cuban people, the Cuban/American people, and the US as a whole, I will terminate the deal."
Despite his overtures to the Miami extremists, in Miami-Dade County, heartland of the Cuba-American vote, he lost to Hilary Clinton by 290,000 votes. Polls show that the majority of the Cuban- American population favour better relations. 70 per cent of them back Obama's initiative to open relations and 63 per cent oppose the blockade, according to recent findings of a Florida International University survey.
Unfortunately, Trump's appointments to date fly in the face of such research on Cuban-American opinions or the desires and interests of diplomats and US business. Rather they signal that he is taking advice from the most rabidly pro-blockade groupings in Washington.
Trump's national security advisor and his nominee to lead the CIA are Retired Lt Gen Michael T Flynn and Congressman Mike Pompeo of Kansas. Flynn has called Cuba an ally of radical islamists that shares their hatred of the West. Whilst Pompeo, in response to 17 December 2014's announcements, accused Obama of "cozying up with America's enemies at the expense of our friends and principles."
But it is the appointment of Mauricio Claver-Carone to Trump's transition team at the US Treasury department that raises most alarm.
Carone is former executive director of the most active pro-blockade group in Washington, the US-Cuba Democracy Political Action Committee (USCD PAC) and a fierce critic of improving relations with Havana.
The US Treasury, the department to which he has been assigned, overseas the work of the Office of Foreign Assets Control (OFAC) which in turn regulates trade and travel to Cuba and is responsible for the billions of dollars in fines imposed on international banks for processing financial transactions with Cuba. It was the threat of sanctions from the OFAC which led the Cooperative Bank to close CSC's account in 2015.
According to USA Today, Claver-Carone now has the "one job that's perfectly suited for him: undoing President Obama's normalisation efforts with Cuba."
Carone also supports Title III of the 1996 Helms-Burton Act being implemented. This is a clause which permits US courts to file lawsuits against foreign companies that have invested in businesses nationalised by the Cuban government which were once owned by US or Cuban-American citizens. The president has the right to suspend this provision for six month periods – and every president has done for the last 20 years.
Claver-Carone is against this suspension as has testified before Congress that Title III grievances should be allowed to proceed. In 2016 he told the Tampa Bay Times, "I support it 100 per cent."
Former US abassador and blockade supporter, Otto Reich, believes Claver-Carone's new job "is a clear signal … that the president-elect will carry out the promise he made to the Cuban American community".
Reich is also joint signatory to an open letter to Trump signed by five former Reagan and Bush era US ambassadors which calls for a change in the interim ambassador appointed by Obama to Havana, Jeffrey DeLaurentis to one who will be "more in tune with the new administration's world view."
The battle for influence was being fought by an increasingly aggressive lobbying campaign played out in open letters and opinion pieces in national newspapers and journals in the days before Trump was sworn in. José Cárdenas, a former Bush administration Latin America advisor, urged Trump to reverse Obama's travel policies and increase spending on covert programs to topple Havana's government in an article in Foreign Policy journal this month.
Despite a growing confidence that Trump will deliver for them on the part of the pro-blockade lobby the Obama government's reforms have been designed to make it "difficult, if not impossible for any Republican president to reverse the opening to Cuba", according to a Reuters news agency report.
The majority of the US public, politicians from both parties and US business and agricultural interests support the policy. Companies that have invested in travel and telecommunications including airlines, cruiselines and hotels will not want to lose their investments. There may also be significant legal and financial implications for the new administration if they were to attempt a U-turn on the first day in office.
However, if that was the objective it would be easy for the new president to make such sweeping changes. There is nothing to stop Trump signing executive orders that could close the US embassy, cancel people-to-people travel, and stop sales of rum and cigars at the stroke of a pen.
The aim of the blockade has always been to strangle the Cuban economy and prevent money from getting into the country in order to create suffering and unrest. The likes of Claver-Corone, the Cuban American Foundations, Brigade 2056 and the right-wing of the Republican Party will be pushing for this from the moment Trump steps in to the White House.
At his Confirmation Hearing for Secretary of State in January, Rex Tillerman stated that he would be reviewing Obama's Cuba policy and considering whether the decision to take the country off the 'State sponsors of terrorism' list was appropriate.
Even if Trump takes no immediate action, there's not long to wait until the path he is likely to follow on Cuba is revealed.
Eleven days after inauguration he will be asked to make the decision on whether to suspend Article III of the Helms Burton Act. Not signing would open the door to tens of thousands of lawsuits being filed against Cuban and international business working there. It would set US-Cuba relations back 20 years.
We can only wait and see what Trump does in power. But whatever happens the Cuba Solidarity Campaign's priorities in 2017 will remain the same. End the US blockade once and for all and return the occupied territory of Guantánamo Bay to Cuba. Neither or which will be won without a fight.
---