Havana's Latin America School of Medicine: Healing the world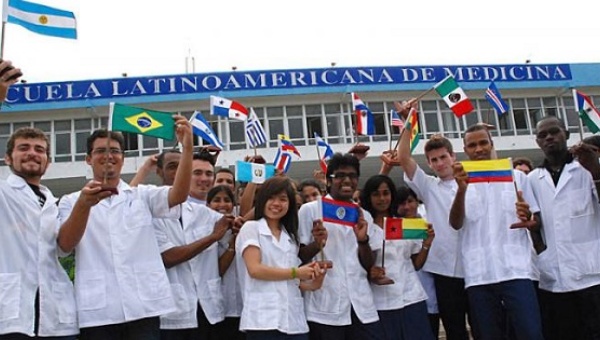 South London
Sunday, 30 July 2017, 2:00pm
South London Cuba Solidarity Campaign
Havana's School of Medicine - Healing the world
On the outskirts of Havana lies one the biggest schools of medicine in the world - the Latin American School of Medicine.
It has been described by the United Nations General Secretary as "the most advanced school in the world".The extraordinary feature of the school is that it is training thousands of students from around completely free. Their tuition, housing, food, and books etc are provided free by the Cuban people. And they stay for a 7 year course.
Students arrive from around the world; from Africa, from Latin America and even from the United States.
The school began as an act of solidarity with countries of Central America after Hurricane Mitch had devastated Honduras and Nicaragua. Cuba had long been known for sending doctors to other countries who were in desperate need of medical help. But following Hurricane Mitch, Fidel Castro proposed that Cuba construct a school to train doctors for those countries.
The idea was so popular and so successful that the offer of free places quickly got extended to many, many other countries - 122 at the last count The latest addition to this long list are students from the US and.this film focusses on the experience of these students. The film is about 55 minutes long. We will also be able hear from our speaker, Doris Doberenz, a long-time supporter of Cuba, who has visited this amazing school
Bread & Roses pub
68 Clapham Manor Street, SW4
2.00pm Sunday,
30th July, 2017
For more information please ring
Steve Johnson on 0208 671 0730
or Ray Davis on 0207 326 1550
South London Cuba
Solidarity Campaign
---