"Is Free Education possible?" Cuba - educating from cradle to grave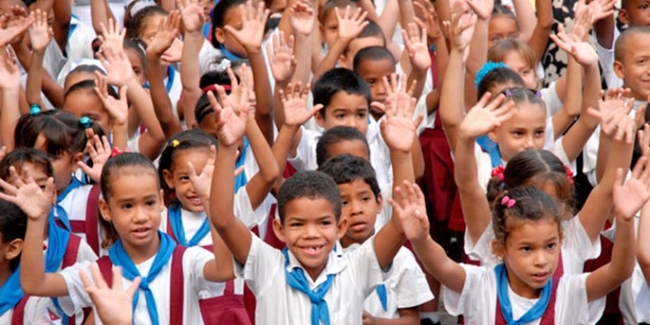 South London
Sunday, 14 January 2018, 2:30pm
South London Cuba Solidarity Campaign: Eye Witness Report
"Is Free Education possible?" Cuba - educating from cradle to grave
With very special guest speaker:
Philipa Harvey - past-President of the National Union of Teachers
Free education in the UK is under massive threats. Secondary education is facing creeping privatisation. And university education, so long a privilege of the middle class and wealthy, has become even more unobtainable for the many with massive tuition fees. These are just some of the attacks that are undermining the long held hope of free education for all. And the outlook continues to look bleak.
The experience of the Cuban people is the very opposite. The Cuban revolution in 1959 ushered in the first possibilities of education for the many. Numerous schools and colleges were built. Provision was even made for children who lived in remote and mountainous regions. In more recent years, Cuba has opened up many new universities. The latest of these being a University for the Senior Citizen. Free education in Cuba is not seen so much as a necessity but an inalienable right.
A large delegation from the National Union of Teachers (now the NEU) travelled to Cuba in October to see for themselves how Cuba makes this possible. Philipa Harvey, ex-President of the NUT, will share her experience with us.
2.30pm Sunday, 14th January, 2018
Bread & Roses pub
68 Clapham Manor Street, SW4
For more information please ring Steve Johnson on 0208 671 0730
or Ray Davis on 0207 326 1550
---