Miami Five hero, Fernando González, to speak at CSC AGM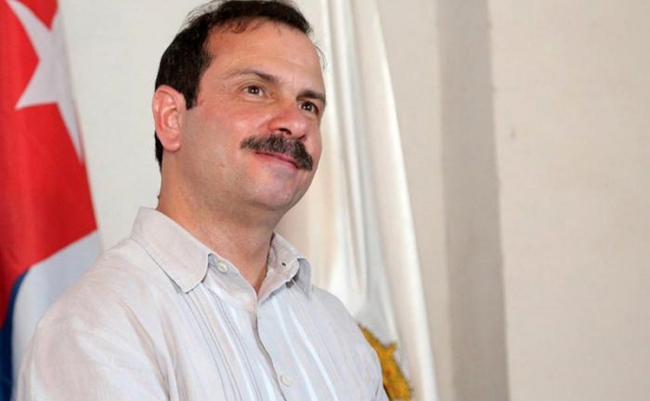 Mabeldon Place, London
Saturday, 16 June 2018, 10:00am
Miami Five hero, Fernando González, to attend AGM
The Cuba Solidarity Campaign's Annual General Meeting for 2018 will take place on Saturday 16 June at Hamilton House, Mabledon Place, the NEU (NUT Section) headquarters in London.
Doors open for registration from 10am and the AGM runs from 10.30am - 4.30pm.
This year our very special guest will be Fernando González Llort, one of the Miami Five who spent 13 years in US jails for defending his country against terrorism emanating from the US. Fernando is now President of the Cuban International Institute of Friendship (ICAP). Other special guest speakers, including the Cuban Ambassador, Teresita Vicente, will address the event.
This year's AGM comes at a time when Cuba-US relations are in the balance, with the new Trump administration in the US setting back relations with cold war rhetoric and new measures to tighten the blockade. How we raise awareness of this and respond as a campaigning organisation will be important topics under discussion at the AGM. We will also look at Cuba post Raúl Castro, who steps down from the presidency in April this year, and reflect on campaign successes such as the victory against the Open University bar on Cuban students. Together we will discuss the strategy for CSC to take the campaign against the blockade forward.
The AGM is open to all, but only CSC members and affiliates are able to propose and vote on motions, and elect the 34 members of the National Executive Committee.
Full details on how to attend the AGM and propose motions or propose names for the new executive committee will be sent out to all members with their CubaSí magazine in April.
If you need advice or assistance with accommodation in London or with childcare in order to attend or would like any more information please call the national office on 020 7490 5715 or email office@cuba-solidarity.org.uk
If you are a member of CSC and have not received your AGM papers by the end of April, or would like to join the Campaign and take part in the AGM please call 020 7490 5715 or email office@cuba-solidarity.org.uk.
---