Cuba-US Relations: Back to the future with Donald Trump? Arnold August 2018 Tour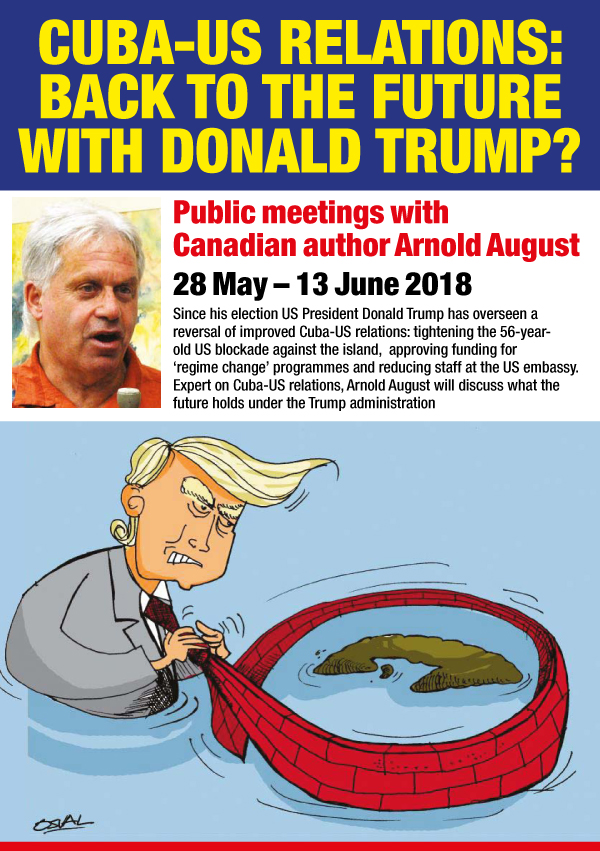 Britain
Monday, 28 May 2018, 7:00pm
Cuba-US Relations: Back to the future with Donald Trump? Arnold August 2018 Tour
Canadian author and Cuba specialist, Arnold August is on a speaking tour of Britain in May/June 2018. He will visit CSC local groups to speak on Cuba – US relations from Obama through to Trump, and Cuba's future post Raúl Castro, who stood down as President of Cuba in March 2018. All these meetings are free to attend.
Tour dates
Monday 28 May, 7pm London
Bolivar Hall, 54-56 Grafton Way, W1T 5DL
with Her Excellency Teresita Vicente, Cuban Ambassador
and Lauren Collins, researcher on Cuban elections and participatory democracy
(nearest tube Warren St)
Tuesday 29 May, 7.30pm, Norwich
Norwich Quaker Meeting House, Upper Goat Lane, NR2 1EW
Wednesday 30 May, 7.30pm, Brighton
Friends Meeting House, Ship Street, BN1 1AF
Thursday 31 May, 7.30pm, Wellingborough
African Caribbean Centre, 27 Rock St, NN8 4LW
Friday 1 June, 7pm, Canterbury
Friend's Meeting House, 6 The Friars, CT1 2AS
Sunday 3 June, 6.30pm, Leicester
Secular Hall, 75 Humberstone Gate, LE1 1WB
(CSC Leicester and Leicester Secular Society joint meeting)
Monday 4 June, 7pm, Sheffield
United Reformed Church, 60 Norfolk Street, S1 2JB
(opposite the Crucible)
Tuesday 5 June, 7pm, Birmingham
Carrs Lane Church Centre, Carrs Lane (off High Street), B4 7SX
Wednesday 6 June, 7pm, Manchester
Friends Meeting House, 6 Mount St, M2 5NS
(sponsored by Unison North West)
Thursday 7 June, 6pm, Edinburgh
Scottish Parliament, Holyrood, EH99 1SP.
This is a Cross Party group meeting on Cuba addressed by Arnold August and it is open to the public but to attend you need to let Parliament know in advance either by calling them or contact SCSC to let them know 0141 221 2359 scottishcuba@yahoo.co.uk
Saturday 9 June, 12.30pm, Glasgow
Scottish TUC, 333 Woodlands Road, G3 6NG
with guest speaker Elaine Smith MSP
Mon 11 June, 7.30pm Oxford
The Lounge, East Oxford Community Centre, Princes Street, OX4 1DD
Paying Bar, free food and retiring collection for Oxford CSC.
Tue 12 June, 7pm, Bristol
Old Council Chamber, Wills Memorial Building, Queens Road, BS8 1RJ
Wed 13 June, 7pm, Cardiff
UNISON House, Custom House Street, CF10 1AP
---