CWU Fringe Meeting: No to Trump, blockade & intervention: Solidarity with Cuba!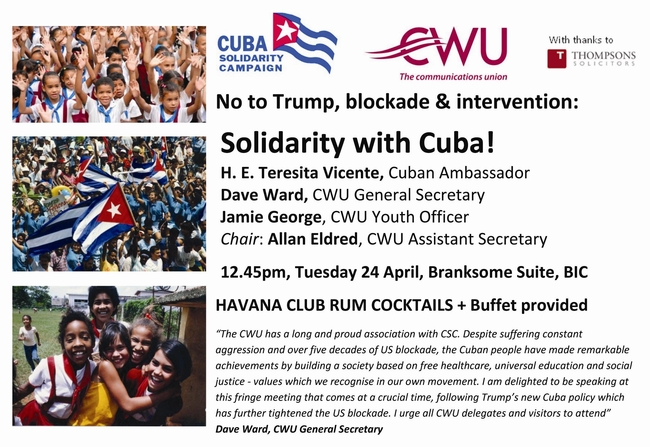 Bournemouth
Tuesday, 24 April 2018, 12:45pm
H. E. Teresita Vicente, Cuban Ambassador
Dave Ward, CWU General Secretary
Jamie George, CWU Youth Officer
Chair: Allan Eldred, CWU Assistant Secretary
12.45pm, Tuesday 24 April, Branksome Suite, BIC
HAVANA CLUB RUM COCKTAILS + Buffet provided.
"The CWU has a long and proud association with CSC. Despite suffering constant aggression and over five decades of US blockade, the Cuban people have made remarkable achievements by building a society based on free healthcare, universal education and social justice - values which we recognise in our own movement. I am delighted to be speaking at this fringe meeting that comes at a crucial time, following Trump's new Cuba policy which has further tightened the US blockade. I urge all CWU delegates and visitors to attend" Dave Ward, CWU General Secretary
This fringe is for CWU conference delegates only.
---