UNISON NDC Cuba fringe meeting with Fernando Gonzalez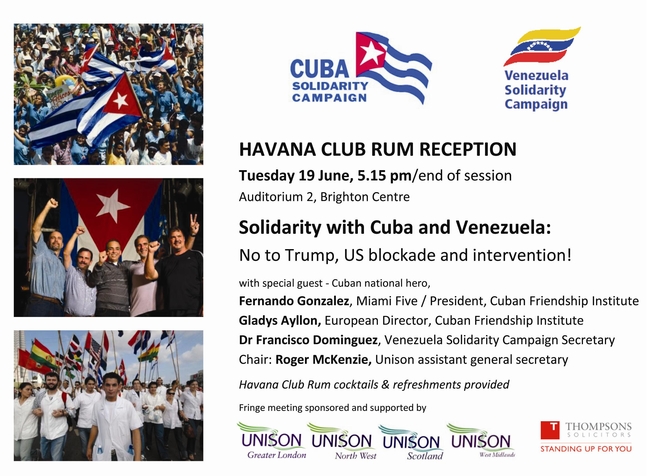 Brighton
Tuesday, 19 June 2018, 5:15pm
Solidarity with Cuba and Venezuela: No to Trump, US blockade and intervention!
Speakers:
Fernando Gonzalez Llort, Miami Five Hero / President, Cuban Friendship Institute
Gladys Ayllon Oliva, European Director, Cuban Friendship Institute
Dr Fransisco Dominguez, Venezuela Solidarity Campaign Secretary
Chair: Roger Mckenzie, Unison Assistant General Secretary
When and Where:
5.15pm-6.15pm, Auditorium 2, Brighton Centre. This fringe meeting is for delegates only.
This fringe meeting has been kindly sponsored by Thompsons Solicitors, UNISON Greater London Region, UNISON North West Region, UNISON Scotland and UNISON West Midlands Region.
---