Latin America Conference 2018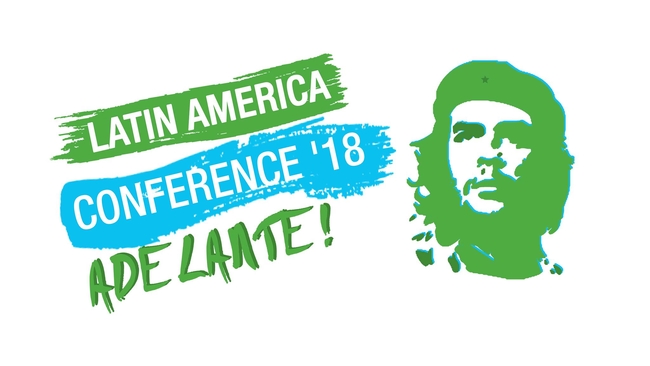 London
Saturday, 1 December 2018, 9:45am
Special guest speaker from Cuba:
Dr Mariela Castro, Cuban MP & director of CENESEX
Plus // Maritza Espinales, Nicaraguan MP // Guillaume Long, former Ecuadorian Foreign Minister // Rocio Maneiro, Venezuela // Tariq Ali // Chris Williamson MP & many more.
The Trump Presidency has overseen a worrying rise in US interventions in Latin America, with the blockade of Cuba being tightened, sanctions threatened on Nicaragua, and Trump pushing for military intervention in Venezuela. But the resurgent right-wing in Latin America is facing resistance, with the Left winning the Mexican election, and trade unionists and popular movements mobilising to defend social progress across the region. Come along to hear eyewitness accounts and get involved in standing up to Trump's interventions in Latin America.
With contributions from over 50 campaigners, politicians, trade unionists and academics from Argentina, Bolivia, Brazil, Colombia, Cuba, Ecuador, Mexico, Nicaragua, Venezuela and
the UK.
Features films, stalls, music and discussion on:
■ Standing up to Trump in the US' backyard – resisting intervention and racism
■ For the Many, Not the Few - Celebrating victory in Mexico
■ 20 years since Chavez's election – a spark for 21st century socialism
■ Cuba 60 – building a better world under the eye of the empire
■ Brazil after the elections – fighting for justice & democracy
■ No to Trump's 'regime change' agenda in Venezuela, Cuba and Nicaragua
Sessions on Cuba include:
Rewriting the Revolution? Is Cuba giving up on socialism?
The Cuban people have a new president and have just finished a mass consultation on a new draft constitution. If mainstream media accounts are to be believed, the island is moving away from the socialist roots of the Revolution. Find out the truth about the political and social changes under discussion including term and age limits, recognition of new forms of ownership and legalising same sex marriage; and hear how Cuba is looking forward to a new era within the country and region.
Dr Mariela Castro Espin, Cuban MP and director of CENESEX
HE Teresita Vicente, Cuban Ambassador
Dr Lauren Collins, academic and expert on Cuban government and democracy
Chair: Rob Miller
Cuba 60 – Building a better world
2019 marks the 60th anniversary of the Cuban Revolution and provides an opportunity to celebrate the country's impressive achievements in health, education and internationalism in the face of the ongoing, illegal US blockade. Since his election, Donald Trump has ramped up the 'Cold War' rhetoric against the island, and backed it up with aggressive policies and pro-blockade appointments to the State department. How will Cuban socialism survive the new onslaught and what can solidarity campaigners do to help.
HE Teresita Vicente, Cuban Ambassador
Bernard Regan, CSC National Secretary
Christina Escobar, Journalist on Cuban national television
Chair: Rob Miller, CSC Director
The politics of diversity – LGBT rights in Cuba
Next year Cubans will vote on a new constitution which includes legalising same sex marriage. The political and social campaign to challenge homophobia in society and promote LGBT rights in Cuba has been led for the last 30 years by the National Centre for Sex Education (CENESEX) under the directorship of Dr Mariela Castro. Mariela is joined by Mike Jackson, secretary of Lesbians and Gays Support the Miners (LGSM) portrayed in the film 'Pride', who participated in Havana's International Day Against Homophobia celebrations this year.
Dr Mariela Castro Espin, Cuban MP and director of CENESEX
Mike Jackson, LGSM
Chair: Karen Lee MP
Or call 020 7490 5715
£10 WAGED, £8 UNWAGED (in advance) £12/£10 on the door.
---