Cuba and South Africa - Socialist versus capitalist medicine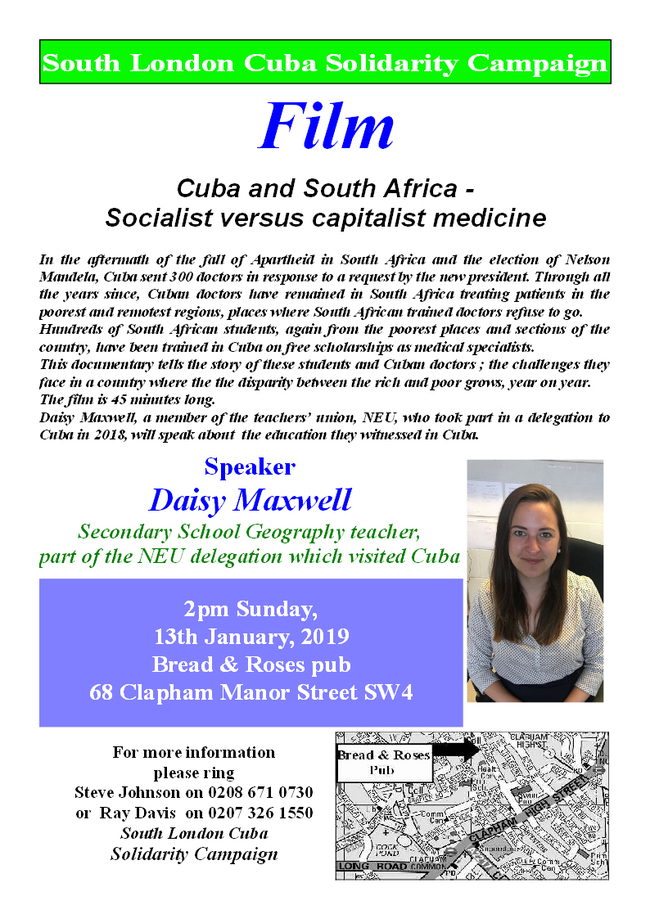 South London
Sunday, 13 January 2019, 2:00am
South London Cuba Solidarity Campaign event:
Film Showing: Cuba and South Africa - Socialist versus capitalist medicine
In the aftermath of the fall of Apartheid in South Africa and the election of Nelson Mandela, Cuba sent 300 doctors in response to a request by the new president. Through all the years since, Cuban doctors have remained in South Africa treating patients in the poorest and remotest regions, places where South African trained doctors refuse to go.
Hundreds of South African students, again from the poorest places and sections of the country, have been trained in Cuba on free scholarships as medical specialists.
This documentary tells the story of these students and Cuban doctors ; the challenges they face in a country where the the disparity between the rich and poor grows, year on year.
The film is 45 minutes long.
Guest speaker:
Daisy Maxwell, Secondary School Geography teacher, part of the NEU delegation which visited Cuba, will speak about the education she witnessed in Cuba.
2pm Sunday,
13th January, 2019
Bread & Roses pub
68 Clapham Manor Street SW4
For more information
please ring
Steve Johnson on 0208 671 0730
or Ray Davis on 0207 326 1550
South London Cuba
Solidarity Campaign
---