How to visit Cuba and the Cuban Revolution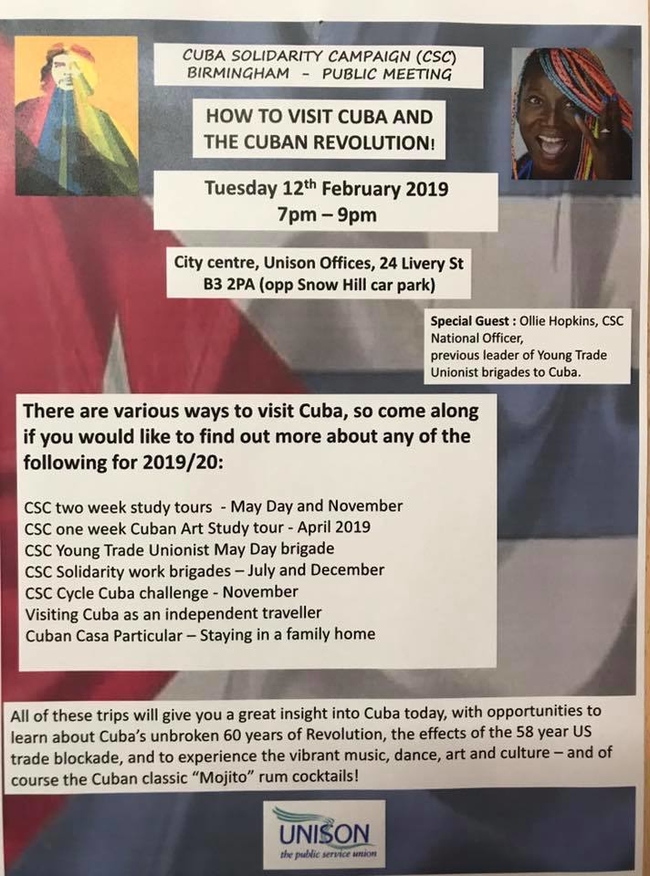 Birmingham
Tuesday, 12 February 2019, 7:00pm
Birmingham Cuba Solidarity Campaign public meeting:
How to visit Cuba and the Cuban Revolution.
There is a wealth of experience in the local group of visiting Cuba in a variety of ways, including Cuba Solidarity organised study tours.
We are delighted to welcome to the public meeting guest speaker Ollie Hopkins, CSC Campaigns Officer.
Ollie has led a number of Young Trade Unionist delegations to Cuba, and will be sharing his experiences. So this will be a great opportunity for young members (broadly under 35) to find out about visiting a country where "For the many not the few" has been fundamental since the Revolution of January 1959. All ages welcome to attend!
Tuesday 12th Feb 7pm - Unison Offices Livery St B3 2PA -
Thanks to Unison (International) for use of their meeting room.
---