Cuba 60 - Cuba's Medical Internationalism Tour 2019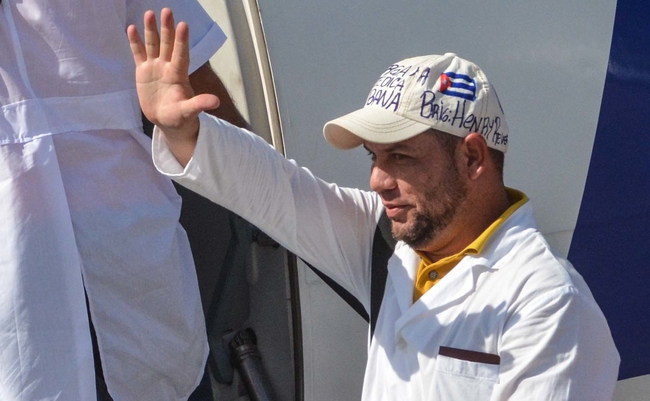 Wed, 12 June 2019 - Mon, 24 June 2019
Dr Enmanuel Vigil Fonseca, a member of the Henry Reeve Emergency Medical Brigade will be speaking at meetings and events throughout the UK in June 2019 as part of CSC's Cuba60 celebrations.
Saturday 8 June, London, 10.30am - 2.30pm
Hamilton House, Mabledon Place,WC1H 9BD
Enmanuel will join our other guest speaker, Cuban Ambassador HE Teresita Vicente, in a very special AGM to celebrate the 60th anniversary of the Cuban Revolution. The Cuba60 exhibition will also be shown at the event, a film on Cuban medical brigades, and all attendees will receive a special limited edition Cuba60 commemorative lanyard.
Wednesday 12 June, London, 7pm-late
RMT Garden Party fo Cuba, Maritime House, Ticket details here
Thursday 13 June, Norwich, 7-8.30pm
Charing Cross Centre, 19 St John Maddermarket, NR2 1DN
Friday 14 June, Birmingham, 7.30pm til late
Cuban Embassy Bar, Moseley, B13 8HW. Public meeting followed by live music and social.
Sunday 16 June, Leicester, 6.30-8pmpm
Secular Hall, 75 Humberstone Gate, LE1 1WB
Monday 17 June, Manchester, 7-8.30pm
Unison Arena Point, 1 Hunts Bank, M3 1UN
Tuesday 18 June, Unison National Delegates Conference, Liverpool (Unison delegates only)
Saturday 22 June, Brighton, 2-3.30pm
Friends Meeting House, Ship St, BN1 1AF
Monday 25 June, Unite Rules Conference, Brighton (Unite delegates only)
Plus more dates and professional meetings and visits to hospitals, meetings with MPs in Westminster and emergency specialists to be confirmed.
If your organisation would like to host Dr Fonseca please get in contact with Natasha Hickman on 0207 490 5715 or email communications@cuba-solidarity.org.uk
Contact CSC for full details and check our website and social media pages for more updates.
Read the interview with Dr Enmanuel Vigil Fonseca
The Henry Reeve Medical Brigade
The 'Henry Reeve International Team of Medical Specialists in Disasters & Epidemics' was formed in September 2005, in response to the devastation caused by Hurricane Katrina. At the time, Fidel Castro offered to send 1,586 medical professionals, including physicians and nurses to the USA. The Bush administration rejected the offer.
The brigade which specialises in medical responses in emergency situations is named after a US citizen who became a general in Cuba's fight for independence from Spain. Henry Reeve Brigade members pledge to serve wherever they are needed. Since 2005, more than 7,000 health professionals have volunteered in over 20 countries worldwide – including Bolivia, Chile, China, Ecuador, El Salvador, Guatemala, Haiti, Indonesia, Mexico, Nepal, and Pakistan. The Henry Reeve Team carried out a significant mission during the Ebola virus outbreak in West Africa, when over 250 health professionals risked their lives to provide care in Sierra Leone, Guinea, and Liberia.
In 2017 it was awarded the World Health Organisation's Dr Lee Jong-Wook Memorial Prize for Public Health which honours individuals, organisations, and institutions whose contributions to public health extend far beyond the normal call of duty.
---