Latin America Adelante! Conference 2019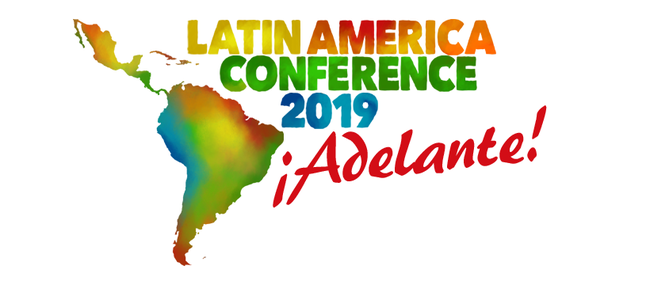 London
Saturday, 23 November 2019, 10:00am
NEW VENUE: FRIENDS HOUSE
The 15th annual Adelante! Latin America Conference will take place on Saturday 23 November 2019 at Friends House, opposite Euston Station, London.
More than 50 speakers from across the globe will address around 30 seminars and plenaries, discussing the current political and social realities in Latin America and the Caribbean, and the threat many face from reactionary forces both internally and from the United States government under Donald Trump. The Latin America Conference provides a great opportunity to meet with campaigners and country experts and enjoy films, stalls, and debate.
Tickets £10 waged/ £8 unwaged. Pay online or call 020 7490 5715.
Speakers include:
Tereza Campello, Brazilian Minister during the government of Dilma Rousseff // Teresita Vicente, Cuban Ambassador // Guisell Morales-Echaverry, Nicaraguan Ambassador // Rocio Maneiro, Venezuelan Ambasador // Fidel Narváez, Former diplomat, Ecuador // Edgardo Llano, Argentinian trade unionist // Manuel Bueno, Bolivian trade unionist // Enrique Santiago Romero, Spanish MP // Richard Burgon MP // Dan Carden MP // Karen Lee MP // Steve Turner, Unite // Diana Holland, Unite // Keith Bolender, Canadian author and many more
Download the conference leaflet with more details and speakers here
Please help promote the conference:
E-FLYER: Forward this email to your friends and email lists - the more people hear about the event electronically the better!
FACEBOOK: Invite your friends to the event on Facebook here and share
TWITTER: Spread the word - retweet this message!
BUY TICKETS ONLINE NOW
Advance tickets £10 waged / £8 unwaged (£12 / £10 on the door)
Time and Date: Saturday 23 November, 10am (registration 9.15am)
Venue: Friends House, 173-177 Euston Road, NW1 2BJ.
You can also call 020 7490 5715 and pay by credit/debit card or send a cheque payable to 'CSC' to CSC, c/o Unite, 33-37 Moreland Street, London EC1V 8BB.
For more information email admin@cuba-solidarity.org.uk Tel. 020 7490 5715
Get your tickets and view details as they are announced at http://www.latinamericaconference.co.uk
Follow Latin America 2019 ¡Adelante! on Facebook & Twitter
---