Labour Party Conference Havana Club Reception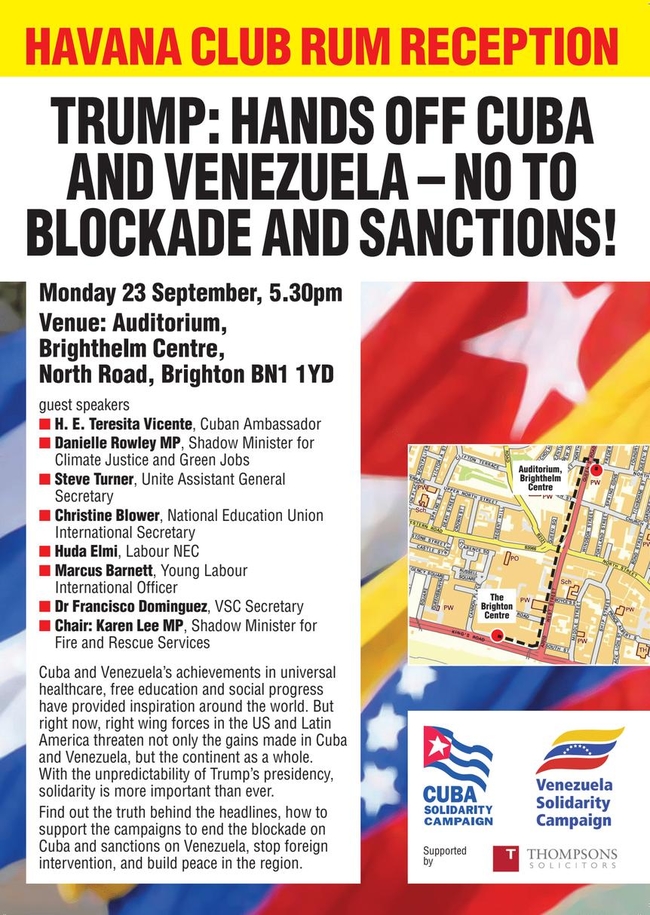 Auditorium, Brightelm Centre
Monday, 23 September 2019, 5:30pm
Trump: Hands off Cuba and Venezuela - No to blockade and sanctions!
H. E. Teresita Vicente, Cuban Ambassador
Danielle Rowley MP, Shadow Minister for Climate Justice and Green Jobs
Steve Turner, Unite Assistant General Secretary
Christine Blower, National Education Union International Secretary
Huda Elmi, Labour NEC
Marcus Barnett, Young Labour International Officer
Dr Francisco Dominguez, VSC Secretary
Chair: Karen Lee MP, Shadow Minister for Fire and Rescue Services
Auditorium, Brightelm Centre, North Rd, Brighton BN1 1YD (2 mins walk from Brighton train station, 5 mins walk from the Bighton Centre)
Monday 23 September, Labour Party Conference 2019
2019 marks the 60th anniversary of the Cuban Revolution, an opportunity to celebrate the gains made by the Cuban people in health, education, social welfare and internationalism.
There achievements are under very real threat from the Trump administration, which has ratcheted up sanctions to unprecedented levels with the express intention of increasing suffering and trying to stave the Cuban people into revolt.
This event is outside of the conference zone so is open to all. Get in touch with campaigns@cuba-solidarity.org.uk for more details
---