TUC Congress Cuba 60 Havana Club Reception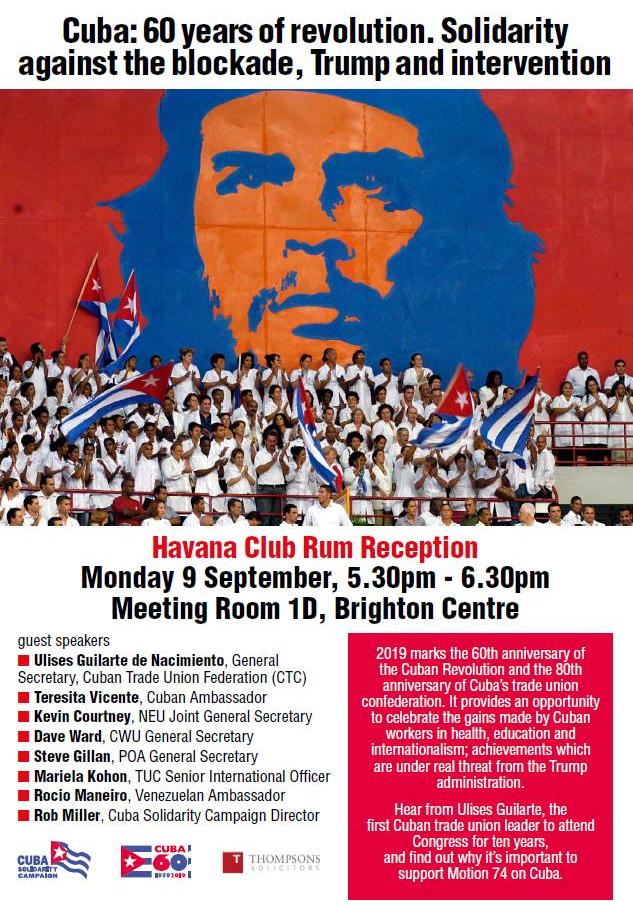 Brighton Centre, Meeting Room 1D
Monday, 9 September 2019, 5:30pm
Cuba: 60 Years of Revolution. Solidarity against the blockade, Trump and intervention
Speakers:
Ulises Guilarte de Nacimiento, General Secretary, Cuban Trade Union Federation (CTC)
H. E. Teresita Vicente, Cuban Ambassador
Kevin Courtney, NEU Joint General Secretary
Dave Ward, CWU General Secretary
Steve Gillan, POA General Secretary
Mariela Kohon, TUC Senior International Officer
H. E. Rocio Maneiro, Venezuelan Ambassador
Chair: Rob Miller, CSC Director
2019 marks the 60th anniversary of the Cuban Revolution, an opportunity to celebrate the gains made by the Cuban people in health, education, social welfare and internationalism.
Their achievements are under very real threat from the Trump administration, which has ratcheted up sanctions to unprecedented levels with the express intention of increasing suffering and trying to stave the Cuban people into revolt.
Come and hear from Ulises Guilarte, Cuban trade union leader and find out why it's important to support the Cuba motion at Congress this year.
Havana Club Rum cocktails provided - a delegates only event.
Meeting Room 1D, TUC Congress 2019, Brighton Centre
---