In conversation with Miami 5 hero Gerardo Hernandez and Richard Burgon MP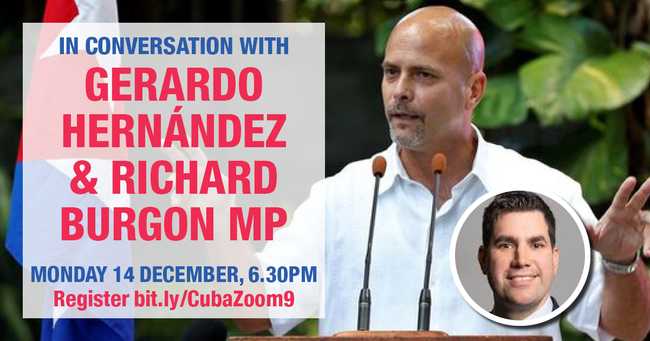 Monday, 14 December 2020, 6:30pm
Six years on from Gerardo's release, hear about his experiences, prospects for an end to the US blockade & improvement in US-Cuba relations.
WATCH LIVE, comment and ask questions on YouTube on https://youtu.be/hodOm1m429U
To mark the sixth anniversary of the release of the Miami Five (17 December 2014), we are honoured to welcome Gerardo Hernández for a live discussion with Richard Burgon MP.
Gerardo spent 16 years in US prisons for infiltrating Miami based terrorist groups that had been responsible for carrying out attacks against Cuba. For more than 12 years his wife Adriana was refused a visa to visit him. He was released following an international campaign for freedom for the Five and as part of the rapprochement negotiations between the US and Cuba in December 2014.
Since returning home he has worked as the vice rector of Havana's International Relations Institute and was elected to the Cuban National Assembly in 2018. In July 2020 he became National Coordinator for the Committees for the Defence of the Revolution where he is heading an ambitious programme to encourage people to grow more food in their gardens, balconies and community spaces. He and Adriana are also now proud parents to three children, Gema, Gerardito and Amber.
Richard Burgon MP was involved in the campaign for the Freedom of the Miami Five long before his election to parliament in 2015. In 2010 he spoke at a rally for their freedom in Leeds alongside Irma Gonzalez, daughter of Rene Gonzalez. He also met Gerardo and René in parliament when they visited Britain in July 2016.
Join us on 14 December to celebrate the anniversary of the release of the Five and discuss Gerardo's work in Cuba, and hopes for the future of Cuba-US relations and an end the US blockade.
WATCH LIVE, comment and ask questions on YouTube on https://youtu.be/hodOm1m429U
Send your questions in advance to communications@cuba-solidarity.org.uk
---