ONLINE EVENT: Viva Education! Viva Solidarity!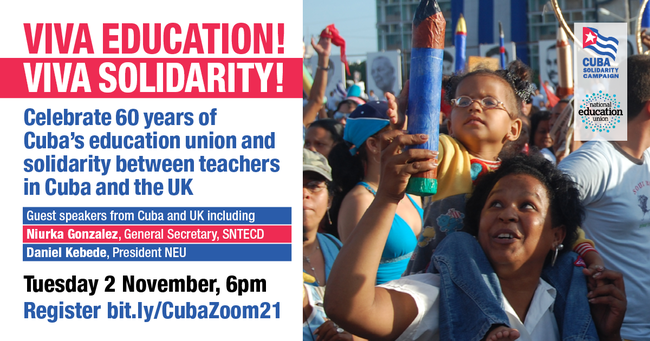 Tuesday, 2 November 2021, 6:00pm
Join the National Education Union and the Cuba Solidarity Campaign for a joint online meeting to mark 60 years since Cuba achieved full literacy. With special guest speakers from Cuba and Britain, including volunteers from the 1961 Literacy Campaign and the General Secretary of Cuba's education union Niurka Gonzalez.
Viva Education! Viva Solidarity!
Celebrate 60 years of the SNTECD (Cuba's education union) and the solidarity between teachers in Cuba and the UK
Speakers
Niurka Maria Gonzalez Obera
General Secretary, SNTECD (Union of Teachers, Science and Sports Workers)
Daniel Kebede
President NEU (National Education Union)
Julie Walters-Nisbett
NEU Leicester City President, Cuba 2018 delegate
Alpha Kane
Literacy brigade researcher, and videos of Cuban participants in Literacy brigades
Bernard Regan
CSC National Secretary
Plus members of the 1961 literacy brigades
November 2021 is also the 60 anniversary of the foundation of the Cuban Union of Education, Science and Sports Workers (SNTECD) and its General Secretary Niurka Gonzalez will join us to talk about the achievements of teachers and education in Cuba over the last six decades and the challenges of teaching under a blockade.
Find out more and register today
---