Cuba's Changing Economy: What About the Workers?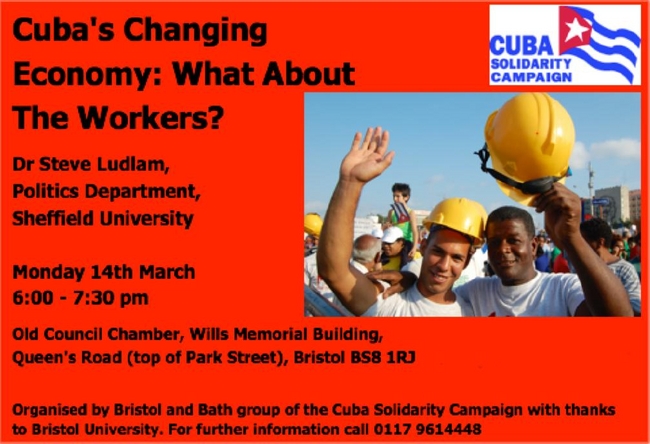 Bristol
Monday, 14 March 2016, 6:00pm
Bristol and Bath Cuba Solidarity Campaign, with thanks to Bristol University, present a public meeting with:
Dr Steve Ludlam, University of Sheffield.
Dr Steve Ludlam is Senior Lecturer in Politics at the University of Sheffield. He teaches contemporary Cuban and Latin American politics, visits Cuba regularly, and is a specialist in Cuban employment law. He is a member of the Cuba Research Forum, an editor of the International Journal of Cuban Studies, and an honorary member of the Faculty of Third Age studies of the University of Havana and of the Cuban National Lawyers Union's Labour Law section. Steve will be discussing the updating of the Cuban economic model and how things look four years into the 'restructuring', the reforming of employment law and how trade unions and other organisations have been engaged with this process.
Old Council Chamber, Wills Memorial Building, Queen's Road (top of Park Street), Bristol, BS8 1RJ
For further information call 01179 614 448
---