Manchester: Miami Five Freedom Tour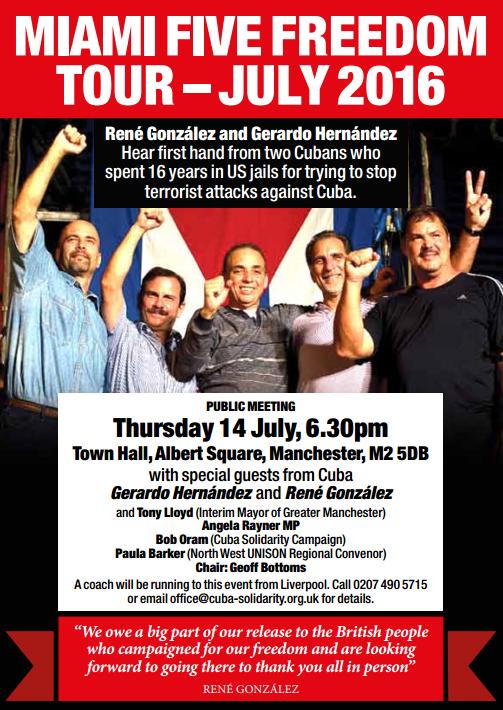 Manchester
Thursday, 14 July 2016, 6:30pm
CSC is delighted to announce that René González and Gerardo Hernández will be coming to Britain for the Miami Five Freedom Tour this July.
The two members of the Miami Five and heroes of the Republic of Cuba will be joined by members of their families.
Thursday 14 July – 18.30, Manchester
Town Hall, Albert Square, Manchester, M2 5DB
with: Tony Lloyd (Interim Mayor of Greater Manchester)
Angela Rayner MP
Bob Oram (Cuba Solidarity Campaign)
Paula Barker (North West UNISON Regional Convenor)
Chair: Geoff Bottoms
and music from Omar Puente
Hear first hand from René and Gerardo who spent 16 years in US jails for trying to stop terrorist attacks against Cuba.
Gerardo Hernández and René Gonzalez are visiting the UK to thank campaigners for their solidarity and support through 16 years in American prisons. Gerardo and René are two of the Miami Five who received very harsh and unjust jail sentences after infiltrating Florida-based groups responsible for violent actions and bombing campaigns against Cuba.
They will be speaking at a public meeting about their time in jail, how international solidarity helped them, the current situation with US-Cuba relations, and why solidarity with Cuba is just as important as ever while the US blockade remains in place.
They will be joined at the meeting by speakers including Interim Mayor of Greater Manchester Tony Lloyd, Angela Rayner MP, Bob Oram from the Cuba Solidarity Campaign and UNISON North West Regional Convenor Paula Barker.
It promises to be an informative and inspiring event and there's no need to book.
There is a coach running from Liverpool to the event - call 0207 490 5715 for details.
---