Raymundo Navarro, International Secretary of the CTC, speaks at Unite Rules Conference
Campaign News | Friday, 10 July 2015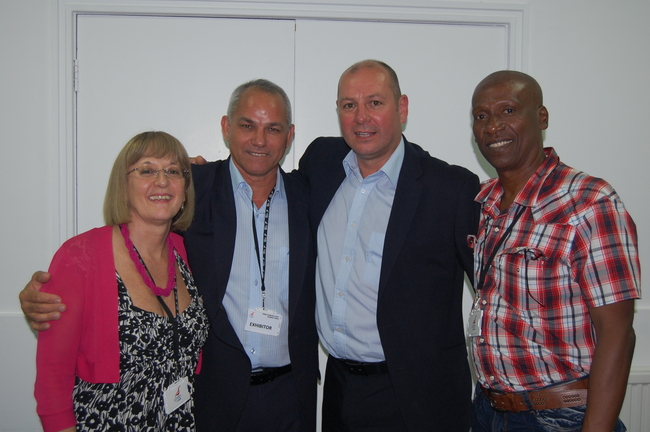 "Just like the struggle to release the Five, you need to fight all the way until you win - and that's what we're going to do until we see that the blockade is lifted", he said
Raymundo Navarro, International Secretary of the CTC (Central De Trabajadores de Cuba -Cuban equivalent of the TUC) thanked Unite for their exemplary work in fighting for the Miami Five's freedom at a busy fringe meeting at the Unite Rules Conference in Brighton.
He thanked Tony Woodley, former Unite General Secretary, for all his support in the Miami Five campaign. "And behind that one man's name are thousands and thousands of Unite members who contributed so much towards the liberation of the Five heroes, and we thank them also".
"Just like the struggle to release the Five, you need to fight all the way until you win - and that's what we're going to do until we see that the blockade is lifted", he said.
Raymundo described how "Cuba is the little flame that won't go out – and it's due to international solidarity from Unite and others that help keep this flame alight".
In light of the new era of Cuba-US relations, Raymundo said "We learn from Che, who said on imperialism, to not give one bit, not a little bit."
"We are forced to be even more prepared, as US objectives are still the same, it's just the tactics that have changed. They are still intervening."
For full, normalised relations to take place, the blockade must end, he said. "But at the moment, it remains intact. Some aspects Obama has made more flexible but these changes are insufficient". Obama's move on Cuba has "helped promote his international image and his reputation at home, which will get the Democrat party votes", he argued.
"We need international solidarity to end the blockade once and for all and for the US to return the Guantánamo Bay Naval Base to Cuba", Raymundo urged.
In finishing his inspirational speech, he said; "We are anti-Yankee but not anti-American. We will continue, even 100 years after normalised relations, to be anti-imperialist and anti-capitalist. Viva Cuba! Viva Los Cinco! Viva Unite!"
Steve Turner, Unite Assistant General Secretary, spoke of the "pride, passion and determination of the Cuban people" that he witnessed on his recent visit to Cuba for May Day.
"Cuba's struggle is our struggle. It's part of a global struggle for social progress and international justice that Unite fully supports. We stand in solidarity with the Cuban people, and will continue to support their struggle to end the illegal US blockade once and for all".
Diana Holland, Unite Assistant General Secretary, chaired the meeting. "Just because some progress has been made between Cuba and the US, it does not mean that we stop our support. We must keep up the fight to end the blockade once and for all".
Lucky delegate wins Cuba flights
After the fringe meeting, the Cuba Solidarity Campaign was delighted to host the conference social at the Grand Hotel in Brighton, for a night of music, dancing and solidarity with Cuba.
Delegates were greeted with a Cuban Havana Club Cocktail on arrival and were treated to a Cuba Solidarity goodie bag, containing a CD, Cuban chocolate, badge and campaign information. The packed event featured live music from Omar Puente and his ten piece salsa band.
Len McCluskey, General Secretary of Unite, said "This evening is about enjoying ourselves and also showing solidarity with Cuba. We are proud of all the work our union and Tony Woodley contributed with to help free the Five and now we will continue to support the campaign to end the blockade. I urge any branches that aren't affiliated to affiliate to the Cuba Solidarity Campaign at this crucial time."
Raymundo Navarro, International Secretary of the CTC (Central De Trabajadores de Cuba, Cuban TUC) also took to the stage to say a few words in English, thanking Unite for all their support and solidarity with Cuba and the liberation of the Five.
Hundreds of delegates entered the Blockade Buster raffle – raising crucial funds for CSC – with prizes including Havana Club rum, Cuban photography books, Che Guevara t-shirts and the lucky winner, Hannah Danks, won two return flights to Cuba. "I've never been to Cuba but have heard the inspirational stories from young members who've been on the Young Trade Unionists Brigade before, so now I'm over the moon to have the opportunity to visit Cuba for the first time. I can't wait!"
Raymundo travelled with Alexis Abreu, the General Secretary of the Cuban Mining and Energy union. Following the Unite conference Raymundo and Alexis met with a number of Trade Unions including meetings with Mick Whelan, General Secretary of ASLEF, Steve Cotton, General Secretary of the ITF (International Transport Federation) and with Assistant General Secretary of the TUC Paul Nowak.
The pair then travelled to Durham, where they were hosted by Davey Hopper and the Durham Miners' Association, to join the celebrations at the Durham Miners Gala where over 150,000 people joined the parade. (Further reports to follow)
---