'Friends of Cuba' meet new ambassador
Campaign News | Wednesday, 1 July 2015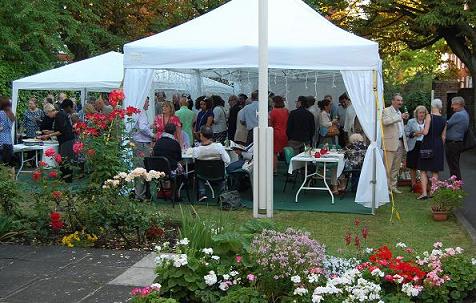 More than 100 'Friends of Cuba' and other special guests were invited to the home of Cuban Ambassador, HE Teresita Vicente on a beautiful summer evening in June. The reception, held at the Ambassador's residence in London, was a thank you to all the 'Friends of Cuba' who each contribute £200 or more annually to the campaigning work of the Cuba Solidarity Campaign.
The ambassador and staff welcomed guests with delicious traditional Cuban dishes including rice and beans, roast pork and yucca. Coupled with authentically made Havana Club rum mojitos with heat wave weather and temperatures to rival Havana, guests could be forgiven for feeling as if they had been transported to Cuba for a few hours.

Rob Miller, CSC Director, spoke of the need to keep up the campaign of solidarity with Cuba and against the Blockade. 'How can we talk of 'normalised' relations when the US still illegally occupies Guantánamo Bay, still stops its own people from travelling freely to Cuba as tourists and still maintains a vicious blockade?'
Baroness Angela Smith, leader of the opposition in the House of Lords and Vice Chair of CSC thanked everyone who supported the work of solidarity with Cuba and urged anyone who could to sign up to the 'Friends of Cuba' fundraising scheme.
HE Teresita Vicente made clear her enormous thanks to all Friends of Cuba for campaigning for freedom for the Miami Five 'who are at last free to share their lives with their families, friends and people of Cuba, thanks to the efforts of all of you'.
In addition to the Friends of Cuba, guests included CSC Executive, trade unions and special invitees from legal, the arts and the media.
The evening was a great success and the financial contribution of our 'Friends of Cuba' is very valuable to the campaign and this is one way that we can offer them a special experience. All those who attended appreciated the opportunity to enjoy the beautiful garden at the residence and the chance to meet informally with the Ambassador and staff.
See photos from the reception here

Find out more about becoming a Friend of Cuba here


---