Bruno Rodríguez and John Kerry hold joint press conference
Granma | Tuesday, 18 August 2015 | Click here for original article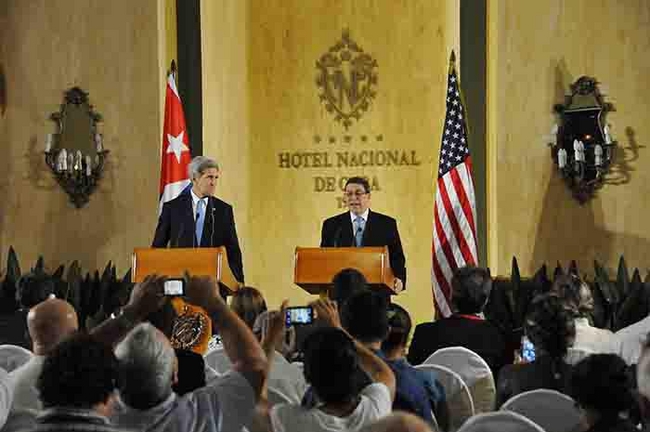 Following the opening of the US Embassy in Havana on 14 August, Cuban Foreign Secretary, Bruno Rodríguez, and US Secretary of State, John Kerry, held a join press conference. A transcript of the meeting is reproduced below:

Bruno Rodríguez.- Good afternoon.

I apologize that you have had to wait a few minutes; but this is a wonderful place. We have not resisted the temptation to see some photographs, some locations.

I had the pleasure to welcome Secretary of State John Kerry at the headquarters of our Foreign Ministry on the occasion of his visit to Cuba to attend the official ceremony for the reopening on the U.S. Embassy in Havana this morning.

I am also pleased to welcome Her Excellency Roberta Jacobson, whose efforts in this process, like that of His Excellency, Charge d'Affaires, Ambassador DeLaurentis, we appreciate.

Once again, the Secretary of State and I have met in a respectful and constructive climate, and we addressed bilateral issues of interest, including the steps that both countries should take to move forward in the process towards the normalization of relations, following this first phase, focused on diplomatic ties.

Both sides agreed on the importance of opening new areas of dialogue, consolidating the already-existing mechanisms of a bilateral cooperation and expanding them to include new ones, such as environmental protections, health care, science, and law enforcement, among others.

As part of this stage that begins with the re-establishment of diplomatic relations between Cuba and the United States and the opening of both embassies, we have agreed this morning on the creation of a bilateral committee to define the issues that should be addressed in the immediate future, including those which have remained pending, some of which are very complicated, for over fifty years.

In the coming weeks, representatives of both governments should hold the first exchanges to work to define the agenda of this committee.

As Secretary of State Kerry said in his speech this morning, we have different views on various topics and profound differences. For example in regards to the exercise of national sovereignty, democracy, human rights, political models and relations between States, in particular in the exercise of international law; and we can also find differences in our interpretation of history, including the history of the last half century.

That is to say, having opened a bilateral dialogue on human rights and having agreed also to increasing cooperation between the U.S. government and the government of Cuba respectively, using universal, non-selective mechanisms which are non-discriminatory of the United Nations, we are ready to discuss any of these topics, accepting that in some of them it will be difficult for us to agree.

But I want to emphasize that Cuba is proud of its record in ensuring the full exercise of the indivisible, interdependent and universal human rights; civil liberties and political rights and economic, social and cultural rights on an equal footing for every Cuban, and we wish this for every citizen of this planet. It is true that we also have concerns regarding human rights in the United States.

Cuba, for example, has a broad model of adherence to international human rights instruments; Cuba is part of the Convention on the Rights of the Child and also part of the Convention on the Elimination of All Forms of Discrimination Against Women, both of the United Nations, because we consider equal pay for equal work for women and men as a key principle, and oppose gender and any other form of discrimination.

Cubais nota placewhere there areacts ofracialdiscrimination orpolice brutality, or where deathsoccur inincidents related tothese issues, noris the territorywherepeopleare torturedorheld ina legallimbo under Cubanjurisdiction.

Equally we are willing to openly discuss the way in which international humanitarian law is respected in military operations in other countries, the existence of civilian casualties or, even, our concern regarding the deterioration of certain political systems, corruption of political systems or electoral models, for example, given the existence of special interests which, fortunately, do not feature in the fully participatory elections in our country.

In Cuba we have many examples of respect and enjoyment of human rights and also, modestly, we commit here to continue our international cooperation, attempting to help as far as allow the limited possibilities of a small country, with a blockaded economy, to continue contributing to the development of measures in the field of social policies in third countries, particularly in the fields of education and health which for Cuba are not, in any way, a business, but fundamental human rights.

I have reiterated to the Secretary of State that a total lifting of the blockade, in our opinion, is essential to be able to develop normal relations with the United States, as is the return of the territory occupied illegally by the Guantanamo Naval Base. Equally we consider it necessary to advance regarding the topic of compensation for the Cuban people, Cuban citizens, for human and economic damages they have suffered in these past over fifty decades. We also aim for the full respect of the sovereignty of Cuba and our internal affairs. We appreciate that President Obama has stated he is in favor of the abrogation of this policy and hope he will continue adopting executive measures to contribute to its dismantling.

I have also reiterated to Secretary Kerry that our government is fully willing to normalize relations with the United States, on the basis of respect and equality, without any prejudice to the independence and sovereignty of Cuba, and without any interference in our internal affairs, as established in the purposes and principles of the Charter of the United Nations, International Law and the principles which, Kerry, our Community of Latin American and Caribbean States (CELAC) has stated through the Proclamation of Latin America and the Caribbean as a Zone of Peace, signed by all the presidents and heads of government a couple of years ago here in Havana.

We strongly believe that despite the differences that exist between our governments, which, obviously, will not disappear, it is possible to build civilized and respectful and productive relations, which, in my opinion, will surely be different in nature from all those which have existed in the past, so they may be nurtured by the historical, cultural, and human bonds that exist between our two peoples.

I believe we have the opportunity to widen our cooperation in multiple areas of interest and mutual benefit. For that, we count on the support of our peoples and the countries of the region, and the international community.

Cuba has always been open to contacts and exchanges with the entire world and it is in that spirit that we welcome U.S. citizens who wish to learn about the Cuban reality and relate with our people.

They could come to this hotel that you and we have been admiring these days, with its beautiful view of the Malecón, the Castillo de los Tres Reyes del Morro, the beautiful landscape of blue sea, which today was precisely the background to the reopening ceremony of the U.S. Embassy.

And we welcome U.S. companies interested in the opportunities that Cuba offers.

Mr. Secretary, you have the floor.

John Kerry (U.S. State Department transcript)

Well, thank you very much, Bruno. Thank you, Mr. Foreign Minister. Good afternoon to everybody.

I think I was listening to not just the foreign minister, but the minister of commerce, trade, and tourism just now. (Laughter.) I am, obviously, very delighted to be in Havana. And I apologize that we were a little bit late. But this is an historic hotel, and I was taking a moment to look at the extraordinary murals in the other room, which have the pictures or likenesses of an extraordinary number of public leaders and celebrities, people in the arts and film who have come here through the many decades. And it's a great history in itself.

As everybody knows, this is an historic moment. Today is an historic day here in Havana, where, finally, after more than 54 years, the United States and Cuba have re-established diplomatic relations. And as I mentioned earlier today, I'm also privileged to be the first Secretary of State to come here since 1945. I think the meeting that we just had – the foreign minister and I – underscored this historic moment because it was extremely cooperative, constructive, and both of us operated in a spirit of building on the possibilities that come out of this day.

The re-establishment of diplomatic relations and the reopening of our embassies are critical steps in the long process of fully normalizing our bilateral relations. And you heard the foreign minister just now talking to you at some – with some detail about the ways in which we hope to capitalize on today in order to move towards that full normalization.

The foreign minister made it clear that that normalization is dependent, of course, on the lifting of the embargo and other items, and we – this Administration, President Obama and his administration – already advocate for and support the lifting of the embargo. We believe that that is important. When we moved to normalization with Vietnam, one of the first steps was the lifting of the embargo, which President George H.W. Bush engaged in as a first step before President Clinton moved to the next. So it's our hope that over the next days we will be able to lay out a roadmap whereby steps are taken that make it possible for us to move to the next level. And I am convinced that the steps that we talked about today will advance this relationship in significant ways.

First of all, the resumption of our embassy activities is going to permit the United States to engage the Cuban Government much more easily on a regular basis. And in fact, today we already agreed on those next steps. Bruno just announced to you the creation of the steering committee, this mechanism that we will use in order to harness the diplomatic track that we – that brought us to this point. And what we intend to do is begin to meet almost immediately. In the first or second week of September, a delegation will come and we will begin this process of working through a number of different issues.

I am confident also that today is going to be the beginning of an opportunity for Cuban diplomats in Washington, D.C. and American diplomats in Havana to be able to engage more openly with the people who make up both of our countries, and that both diplomats – Cuban and American – will be free to share views, to meet with citizens of all walks of life in the nations to which they are accredited. And this only makes sense, because no one who has faith in the validity of his or her own ideas ought to fear the ideas of other people.

I want to be clear – and I think I said this earlier today – that the normalization of relations is not a favor that we do one nation to the other. It's something that we do together because both of our citizens, we have determined, have the ability to be able to benefit from the relationship. As people-to-people contacts increase, we believe that normalization will contribute to an empowering of all of our peoples, helping the Cuban population to be able to plug into the global economy, to be able to trade more, to be able to move and travel and enjoy the fruits of their labor, to be able to raise the standards of living, and therefore improve their lives. It'll also help citizens from the United States – including students and the private sector – to be able to learn more about this country, to be able to establish friendships and connections that will last, hopefully, for a lifetime.

The United States and Cuba today in our meeting both agreed that we are determined to look ahead and that the same shared resolve that brought us to the diplomatic agreement to be able to open our embassies is the shared resolve that we will now apply to the process of normalization.

Now, the Foreign Minister and I – I'll just repeat a couple of things he said – touched on the issues of mutual concern, including human rights, which he talked about at some length; the environment; counter-narcotics; maritime safety; and we agreed to establish this bilateral mechanism so we can meet regularly in order to do more than simply talk about the relationship but to actually take the steps necessary to be able to watch it mature. We will review our common agenda; we will address a number of issues beyond those I've listed, such as civil aviation, claims – there are obviously issues of claims on both sides, by the way, and those need to be worked through. There needs to be a process established for working them through. And the path to full normalization is not always going to be easy. We both understand that. But we're confident that the establishment of our embassies is going to make it easier for our diplomats to work at these difficult issues, and there's no question in my mind it's going to enhance mutual understanding.

Normalization between the United States and Cuba will also remove a source of irritation and division within the hemisphere. When we were in Panama last year I can't tell you how many countries came up to us after the President's announcement and said how happy they are that finally the United States and Cuba are going to move to renew that relationship, because all of them were supportive of and encouraging us to take that kind of step. So this matters to us hemispherically, because countries from Chile to Canada will all be better able to advance a common agenda for our citizens. And that is an agenda that is aimed at lifting people out of poverty, safeguarding health, fighting crime, creating sustainable energy security, advancing human rights, and equipping our young people with the knowledge and the skills that they need in the modern world to be able to succeed and thrive and help build community in their own nations.

Today, with the ceremonial flag-raising at the embassy, we are taking an historic and I might add long overdue step in the right direction. And we are determined to go forward with faith in the people of both of our countries as we begin what we hope will be a very new and a very exciting era for all of us.

So thank you very much, Bruno, for your generous welcome today. It's a pleasure for me to be back in Havana, and having driven around and seen the beauty of this city and knowing it previously but having rekindled that, I can tell you this is going to be one of the great sought-after travel spots of the world. And in my judgment, the sooner we can get to our normalization the better.

Thank you.

Interaction with accredited press

Moderator.- The first question today will come from Lesley Wroughton, from Reuters.

Lesley Wroughton (Reuters).- Thank you very much.

Mr. Secretary, are you – is this Administration considering any further steps, administrative steps, to loosen restrictions on Cuba? And number two, do you have any concerns that if you can't move quickly and capture this momentum that you're talking about to move to normalization, that the next president of the United States could undo everything that you've done? And is there concern from Cuba that the longer this takes, that this process could unravel as the U.S. moves into a political atmosphere next year and beyond?

John Kerry.- Well, let me answer first of all we agreed today, we talked through some the potential steps that might be able to be taken, and we are certainly going to evaluate all possibilities within the framework of a reciprocal, mutual process.

As I said in my comments at the embassy flag-raising today, even the embargo is a sort of two-way street. It requires both of us to do things. But I was encouraged in the course of the conversation we had today that we will be able to make progress with respect to a number of issues, from human trafficking and law enforcement – law enforcement exchanges and fugitive issues – to the claims issues, to health, to civil aviation, to maritime security. There are a host of issues where just a path of common sense lays out a number of choices that we will be able to work on.

And if we do that and do it effectively, I can't imagine another president – Republican or Democrat – just throwing it all out the window. I just don't see that. I think that people understand that over 54 years, we had a policy that was isolating us, not changing the world. And I think that what we need to do is recognize that reality. As President Obama said when he made the announcement, when you realize you're digging yourself into a hole, the first thing to do is stop digging, and then you take the measures to get out of the hole. That's what we're doing. And I think it's an important step and I'm confident that we will be able to make progress.

We're not trying to over-define that progress; we're not trying to oversell what could be done. We all understand there will be hiccups. There will be differences because there are differences. But we nevertheless have learned through many decades dealing with people with whom we have differences that there are ways to find a path forward that find benefits for both countries' citizens. And I'm confident that we'll be able to do that here.

Moderator.-The second question from Andrea Rodriguez, from AP.

Andrea Rodríguez (AP).-Good afternoon, Minister.

In recent days, we have had two beautiful ceremonies, and also we have heard the claims from both sides. Secretary Kerry today mentioned that he hopes to see a genuine democracy in Cuba. I would like to know his comments in this regard. And in this same direction, would this topic form part of the committees? And what are the expectations for the future of these committees mentioned by you both? Thank you.

Bruno Rodríguez.- I feel that we should work very actively in order to build mutual confidence, and to develop contacts in the areas where we have a very close approach or those areas where our ideas could become closer, and at the same time discuss in a respectful way about our respective differences.

In some areas, it is true that the differences are profound. However, I can say that some of these issues have been subject to an intensive international debate. For example, some electoral political models of industrialized countries that seemed to be a unique model have gone into a very serious crisis, even in Europe.

States have the need to develop their relations according to international law with peoples which have decided, in the exercise of their self-determination, their own national destiny, according to their culture and level of development.

I feel very comfortable with Cuban democracy, and at the same time there are things that could be further perfected, as we are actively working on today with the processes related to the updating of our socialist economic and social model.

I can say that we are ready to speak on those issues on the basis of reciprocity, on sovereign equality. We have also a lot to say, we have concerns to share. There are attempts to increase international cooperation to solve problems related to civil and political liberties, which, in our opinion, should be guaranteed, such as the right to food, the right to gender equality, the right to life, the right to education, and healthcare. I feel that on this issue we are very much willing to talk. In fact, we have already developed a dialogue on these matters which I hope will continue in the future.

Mini Whitefield (Miami Herald).- Secretary Kerry, the State Department has said it is not contemplating any change in the Cuban Adjustment Act. It also says that it supports safe, secure, and orderly migration from Cuba. How do you reconcile that with dangerous sea crossings and the "wet foot, dry foot" policy that encourages this?

And Minister Rodríguez, do you think the Cuban Adjustment Act and the "wet foot, dry foot" act should be topics in future migration talks with the United States?

And secondly, Minister Rodríguez, does Cuba support the concept of compensation for expropriated U.S. properties?

John Kerry.- Well, let me just – I'll say very quickly that the United States policy is to support safe, legal, and orderly migration from Cuba to the United States, and we do support that. And we support full implementation of the existing migration accords with Cuba, and we currently have no plans whatsoever to alter the current migration policy, including the Cuban Adjustment Act, and we have no plans to change the "wet foot, dry foot" policy at the same time. That's where we are.

Now, we're willing to sit with our counterparts and use this committee, as you've described, to examine anything. We will listen carefully and we'll work on those things that we think work best to advance the relationship and the well-being of both of our citizens.

Bruno Rodríguez.- The migration issue is very complex under the present circumstances.

The dramatic situation of migration waves of people escaping from poverty and military conflicts are too well-known. Fortunately, this does not happen in the Latin American and Caribbean region. We do not have serious situations from the point of view of conflicts between states or internal conflicts.

But even in our region, we have serious concerns about the migration processes from countries of the Central American region, for example, affecting hundreds of small children, or other countries neighboring the United States.

The migration relations between the U.S. and Cuba, which date back to as early as the 19th century and even before, should not be politicized. They should be totally normal. We agree on encouraging safe and orderly migration between both countries. We also agree on the risks, the dangers, and the need to establish an international and bilateral cooperation against trafficking in persons, human smuggling, and other events related to organized international crime.

We believe that the migration accords in force between the U.S. and Cuba should be strictly respected and that any policy or any practical action which does not – is not in accordance with the spirit and the letter of the accords should be abolished.

I can reiterate the willingness of our government to continue to hold migration talks, and in general with regards to the movement of people, which we believe is a human right. We believe that migrants should be treated with respect for their human rights in a humanitarian way, in a cultured way. And we believe that Cuban citizens who are freely to travel will be more than pleased to receive in our country the tourists and travelers from the U.S. so that the contacts and the links between both peoples could be further intensified.

We believe that the freedom of travel is also a fundamental human right.

Moderator.-I will give the floor for one last question from a journalist from Granma newspaper.

Sergio Gómez (Granma).- My first question is for Secretary Kerry. You talked about a roadmap to be defined by both countries, but I would like to know if the Obama administration is willing to continue to move forward with regard to substantial issues such as the return of the Guantanamo Naval Base, the end of the illegal TV and radio broadcasts, the end of the funding of subversive programs aimed at regime change here in Cuba. And although we know it is down to Congress, will PresidentObama continue acting to try to empty this policy of its content?

And secondly, Minister Bruno, Latin America is living through a significant historical moment. You mentioned the proclamation of Latin America as a Zone of Peace, of the search for unity amongst diversity. How does this process between the U.S. and Cuba fit into that process? How could this contribute to Latin American and Caribbean aspirations today?

John Kerry.-Well, as we have said – both of us – there will continue to be issues on which we disagree or where they may not yet be ripe for transition or discussion or transformation.

We're biting off a lot right now. This is a big agenda. Moving to be able to normalize – and I think Bruno made it clear that there are certain expectations that Cuba will have as to what that means – requires dealing with some big issues. They're not going to be dealt with overnight and they're certainly not going to be dealt with in the next month or two as we begin to build confidence and take on some of the things that are less complicated, less provocative, and frankly, more achievable.

So we are very clear in our roadmap that we're going to begin to do the things where we think we can make the greatest progress and where we can make a difference. That doesn't mean that these other issues at some point in time won't be discussed. Now, at the moment, there is no current discussion or plan to change the arrangement with respect to Guantanamo, but I can't tell you what will happen over the years in the future. But now there is no plan to do that. But as we go down the road here and as this relationship changes, who knows what issues will over a period of time be put on the table? I can't tell you that. Right now that's not on the table, but President Obama is clearly moving to try to get the embargo out of the way. And that would be an enormous transformation and it's hugely, I think, in Cuba's interest and in its – it's one of the things that Cuba would obviously like to see happen.

So we have a world of possibilities here that we can deal with without putting the most complicated and difficult ahead of the – don't put the cart ahead of the horse at this moment in time. And I think we're going to move in a very thoughtful and strategic way, build confidence, achieve things, see how the transformation is working, and hopefully, lay the groundwork for people to be able to see that it makes sense to lift the embargo. That, I think, is one of the objectives we both share, and getting there is going to require us to both succeed in producing – producing progress on the roadmap itself.

Bruno Rodríguez.-Cuban laws have foreseen the compensation to owners whose properties were nationalized in the 1960s. And all the owners were compensated in due time with the exception of U.S. citizens due to the circumstances that came about back then in the bilateral relations.

I can reiterate that the Cuban laws include the possibility to pay compensations which will necessarily be part of a mutual process of negotiations – taking into account the compensations ruled by Cuban courts regarding the enormous human and economic damages resulting from the same reasons that prevented us from paying compensations back then.

I believe that for Latin America and the Caribbean, any progress in the bilateral relations between the U.S. and Cuba will be beneficial for mutual interests, both for Our America as well as for national interests, the interests of U.S. citizens, this process will no doubt be beneficial. I think that this will even open up opportunities for the development of better and much more profound relations and cooperation links – greater links in every sphere between the U.S. and Latin America and the Caribbean. This will contribute to solve one of the biggest problems in the Western Hemisphere, and this will create the proper conditions to enhance hemispheric cooperation in areas as important as the prevention of communicable diseases and others in which we have already had some incipient experiences.

I believe that Latin America and the Caribbean considers that Cuba's return to the Summit of the Americas is a regional vindication as well as the changes announced by President Obama in the U.S.-Cuba policy.

I remember, just as Secretary Kerry, those statements made by our region during the last Summit of the Americas held in Panama in recognition of these facts, expressing recognition to the governments of Cuba and the United States for the steps taken so far. And there is great hope that the real substantial issues may be solved so that we are able to move towards the normalization of relations between both States.

I would like to convey my gratitude for the presence of the Secretary of State and reiterate to him our welcome to Havana and our satisfaction that both embassies have been reopened and conditions have been created to deal with the fundamental issues for the well-being of both peoples and countries.

And to you all, thank you very much for your presence in Cuba and your presence in this room.

Thank you. (Applause).
---