Metropolitan Police issue apology
Campaign News | Friday, 10 July 2015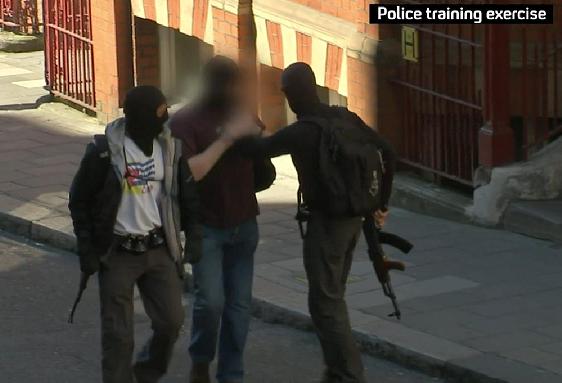 Metropolitan Police Deputy Assistant Commissioner responds to complaint from the Cuba Solidarity Campaign for incident that associated Cuba with terrorism
The Metropolitan Police have issued a "sincere and unreserved apology" in response to complaints that dressing one of their Operation Strong Tower "terrorists" in a Cuban flag t-shirt associated the country with terrorism.
Three police officers acting as terrorists in Operation Strong Tower – a simulation terrorist attack exercise - were carrying weapons and wearing balaclavas. All were dressed in black, apart from one who was wearing a Cuba flag t-shirt, clearly recognisable in nationally broadcast TV news reports.
In response to a complaint by the Cuba Solidarity Campaign that the incident associated Cuba with terrorism, the Metropolitan Police Deputy Assistant Commissioner, Maxine de Brunner QPM, said:
"I have viewed the footage which has concerned you and others. Photographs and film do show one of the role actors wearing a T-Shirt under their jacket, which shows the flag of Cuba. This was clearly a regrettable error, which I take full responsibility for."
"This has been investigated and the role actor has been spoken to. He genuinely did not think of the significance and implications of wearing a T Shirt with a national flag on it. The impact has been explained, he is genuinely sorry and states there was no intention to cause offence or associate the Cuban people with Terrorism. As a result he has been given advice regarding his actions. I will also ensure that the learning from this will be incorporated into future exercises."
"I offer a sincere and unreserved apology on behalf of the Metropolitan Police Service."
Rob Miller, Cuba Solidarity Campaign Director said, "Whilst we welcome this apology from the Metropolitan Police for associating Cuba with terrorism, it should never have happened in the first place. The cruel irony is that in fact the Cuban people themselves have been the victims of numerous terrorist attacks from US-based groups over the last 55 years, which have left 3,478 dead and 2,099 disabled."
"Too often, the small island of Cuba has suffered misrepresentation and misinformation from the anti-Cuban mass media. This incident could further perpetuate such dominant anti-Cuba smears."
"Rather than support terrorism, Cuba continues to be an inspiration with its exemplary health and education systems and its internationalism. On the same day as Operation Strong Tower, the World Health Organisation (WHO) announced that Cuba has become the first country in the world to eliminate mother-to-child transmission of HIV and syphilis.
---