Fidel Castro Calls for Millions in Compensation from US
Telesur | Friday, 14 August 2015 | Click here for original article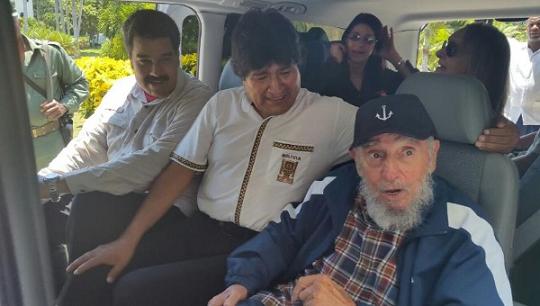 In a letter published Thursday, the leader of the Cuban revolution reflected on a life of struggle for justice.
Fidel Castro, historic leader of the Cuban revolution, turns 89 years old Thursday. On the occasion of his birthday, he penned a letter reflecting on history, declaring, "we will never stop fighting for peace and the well-being of all human beings."
"Equality for all citizens to access health, education, work, food, security, culture, science, and welfare, that is to say, the same rights we proclaimed when we began our struggle, plus those that emanate from our dreams of justice and equality for the people of our world, this is what I wish for all," wrote Fidel Castro.
His letter came ahead of the opening of the U.S. Embassy in Havana Friday. Cuba opened its embassy in Washington July 20, as part of renewed relations between the two countries. However, despite regular calls from Cuba, the U.S. has not yet ended its decades long blockade on the country, nor closed its Guantanamo Bay torture prison on Cuban territory.
"Cuba is owed many millions of dollars in compensation for damage caused to it (by the United States)," Fidel Castro also wrote Thursday.
According to a UN report this month, the U.S. blockade on Cuba has cost the country US$117 billion.
Fidel Castro reflected on the bombing of Hiroshima and Nagasaki — whose anniversary recently passed — by the United States. The Cuban leader also criticized the disproportionate influence of the United States in financial markets before commenting on the millions owed to Cuba as a result of the decades-long blockade.
---