Cuba Delegation in Washington to Officially Reopen Embassy
Telesur | Monday, 20 July 2015 | Click here for original article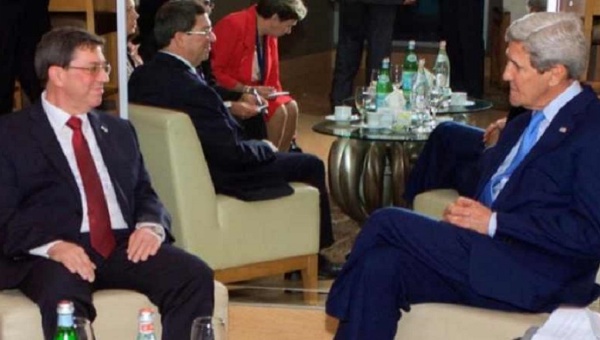 As of the first second of July 20, diplomatic relations between the U.S. and Cuba are officially resumed.
The Cuban Foreign Minister Bruno Rodriguez arrived in Washington Sunday, as of the first second of July 20 Cuba and United States officially have resumed their diplomatic relations after 54 years.
Rodriguez is scheduled to head the ceremony of the reopening of the Cuban embassy this Monday in the U.S. capital.
According to his plans, Rodriguez will deliver a speech regarding the re-establishment of diplomatic relations after the Cuban flag is raised at the embassy. He will then meet with U.S. Secretary of State John Kerry.
Diplomatic relations were interrupted by Washington as part of its hostile actions against the revolutionary process in Cuba which began January 1, 1959, the Cuban news agency Prensa Latina said.
The Cuban government of President Raul Castro has reiterated that in order for there to be an actual normalisation of relations between both countries, the U.S. needs to urgently lift its illegal five-decade-old blockade against the Caribbean nation, and return Guantanamo Bay to Havana. Cuba has also insisted that Washington would need to end all its hostile actions against the island nation which include illegal radio and television broadcast to the country aimed at destabilising its government, as well as subversive plans aimed at causing a change of regime.
Last week, Gustavo Machin, a Cuban Foreign Ministry official, warned the U.S. may still be attempting to remove the Cuban Communist Party from power, in spite of a public promise from President Barack Obama to move away from "regime change."
"You have to appreciate the words of the president ... but you also have to see what happens in practice," Machin, the deputy director for U.S. affairs in the Cuban Foreign Ministry, said during a news conference. "We haven't seen anything suggesting practical change."
The diplomatic official cited multimillion-dollar annual budgets for what are commonly called the Cuban democracy programs, which Cuba believes are Washington's hostile efforts to undermine its government and socialist political system.
In fact, according to Reuters, the 2016 U.S. State Department budget request contemplated US$20 million for such programs to aid alleged victims of what Washington claims to be political repression, support civil society and promote free speech.
Washington has yet to schedule Secretary of State John Kerry's visit to Havana to raise the U.S. flag. Following the reopening of embassies, Cuban and U.S. officials are expected to begin talks to further normalize relations.
On July 1, President Barack Obama urged Congress to follow his decision to reopen the American embassy in Havana by lifting the U.S. trade embargo on Cuba.
"We don't have to be imprisoned by the past," Obama said then. "Americans and Cubans alike are looking to move forward. I believe it's time for Congress to do the same."
Obama had called on Congress in January to lift the embargo, but there has been no indication that Congress will soon debate the issue. A survey, however, revealed that close to 60 percent of U.S. citizens favor the lifting of the blockade.
In October 2014, for the 23rd year in a row, the U.N. General Assembly overwhelmingly voted to condemn Washington's blockade on Cuba. Havana has said that Washington's blockade on Cuba has caused damages well over US$1.1 trillion over the past 50 years.
In theory, the blockade against Cuba is not legal since the Caribbean nation is no longer considered an enemy of the United States, according to Global Research. But the now Republican-controlled Congress is set on opposing all of Democrat President Obama's actions.
---