U.S. and Cuba Reach an Agreement to Reopen Embassies, Officials Say
This article originally appeared in the New York Times | Tuesday, 30 June 2015 | Click here for original article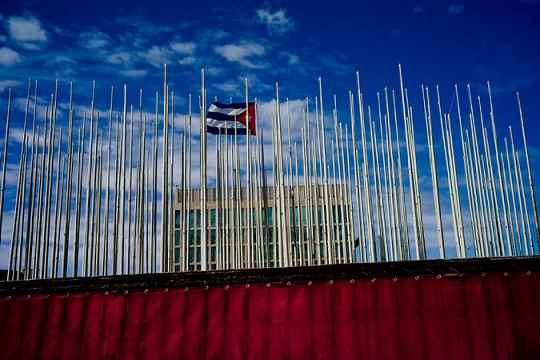 WASHINGTON — The United States and Cuba will announce an agreement on Wednesday to reopen embassies in each other's capitals, formally restoring diplomatic relations more than a half-century after they were ruptured, according to administration officials.
The agreement represents the most tangible outcome to date of President Obama's decision to reach out to the island nation and end its decades of isolation. Mr. Obama declared in December that he wanted to resume ties with Havana, and the two sides have spent the last six months in painstaking negotiations to work out details of the new embassies.
Mr. Obama will announce plans to reopen the embassies in the Rose Garden on Wednesday morning. Secretary of State John Kerry will also discuss the plans in Vienna, where he is negotiating a nuclear agreement with Iran, according to the officials, who insisted on anonymity in advance of the formal announcement. Mr. Kerry plans to travel to Havana for the actual opening of the embassy on July 22.
President Dwight D. Eisenhower broke off diplomatic relations with Cuba in January 1961 just before leaving office in response to increased tensions with the revolutionary government of Fidel Castro. A trade embargo imposed by Mr. Eisenhower was then toughened by his successors, and the two neighbors have spent more than 50 years at odds.
The United States already has a limited diplomatic outpost in Havana, called an interests section, in the same seven-story building on the Malecón waterfront that served as the embassy until 1961. After so many years as a small presence in a hostile country, the building is worn down. The State Department has said it needs $6.6 million to retrofit it to make it suitable as an embassy.
But some Republicans who oppose the outreach to Cuba, calling it the appeasement of a dictatorial government, have been working to bar any financing for such work. Critics may also try to block the confirmation of a new ambassador once Mr. Obama makes a nomination.
The United States has a career diplomat running the interests section, Jeffrey DeLaurentis, who could serve as the acting ambassador pending a permanent appointment. Mr. DeLaurentis, who holds the rank of ambassador, has served at the United Nations, as a deputy assistant secretary of state and in Havana as the political-economic section chief.
Cuba has an interests section in a stately manor in the Adams Morgan section of Washington that could be upgraded. In May, Cuba announced that its banking services for that office had been restored, a precondition to reopening a full embassy.
In recent weeks, Cuba also repaved the driveway, repainted the fence and erected a large flagpole on the front lawn to await the formal raising of its flag.
The reopening of embassies would remove Cuba from a dwindling list of countries completely ostracized by the United States. The only other nations with which Washington has no diplomatic relations are Bhutan, Iran and North Korea, although there are other countries with which it has relations but no embassies.
Mr. Obama has made the détente with Cuba a central foreign policy goal of his final two years in office, along with the deal with Iran to curb its nuclear program. While campaigning for president in 2008, he asserted that the United States needed to reach out to its enemies, and those two agreements would represent the culmination of that philosophy.
Critics argue that Mr. Obama is too eager to accommodate countries that do not share American interests or values. By reopening diplomatic relations with Havana, they say, Mr. Obama will be empowering the government still run by Mr. Castro's brother, President Raúl Castro, without obtaining any assurances of democratic reforms or improvements to human rights.
In a letter to Mr. Kerry in June, after the administration removed Cuba from the list of state sponsors of terror, Senator Marco Rubio, a Cuban-American Republican from Florida and a candidate for president, vowed to oppose the confirmation of any ambassador until issues like human rights, fugitive terrorists and billions of dollars of outstanding claims were resolved.
It is "important that pro-democracy activities not be sacrificed in the name of 'diplomacy' just so that we can change the name of a building from 'Interest Section' to 'Embassy,' " Mr. Rubio wrote.
Cuban and American officials have been negotiating for six months over the diplomatic implications of opening embassies. United States negotiators demanded assurances that American diplomats at an embassy in Havana would be able to move freely around the country and speak with anyone, including opponents of the government. Cuban officials, who have frequently accused the United States of working to undermine the government by aiding dissidents, had resisted the request.
Proponents called the establishment of embassies a vital phase in the thaw, one that should be followed by Congress easing travel and commercial restrictions against Havana.
"Opening embassies in Washington and Havana is an important step toward the day when Americans can make their own decisions on where they travel, and our businesses can compete with the rest of the world," said James Williams, the president of Engage Cuba, a nonprofit advocacy group pressing for an end to the embargo.
---