Miami Five visit South Africa
Report based on Spanish article on Cuba Debate | Tuesday, 23 June 2015 | Click here for original article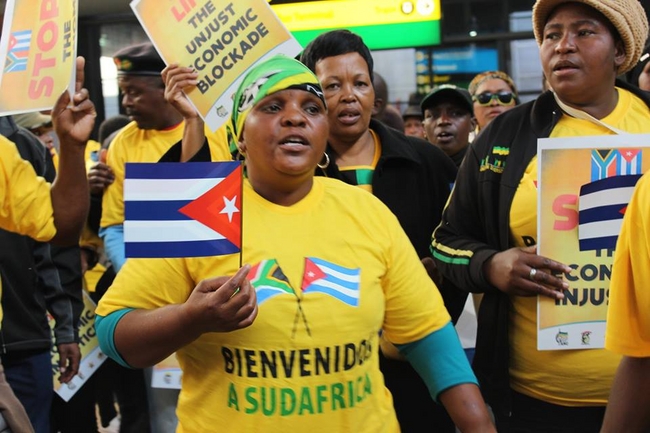 The Miami Five arrived in South Africa on Sunday 21 June to begin a two week tour of the country, plus visit Namibia and Angola.
Gerardo Hernandez, Ramon Labañino, Antonio Guerrero, Rene Gonzalez and Fernando Gonzalez were greeted at the airport by the general secretary of the ruling African National Congress (ANC) Gwede Mantashe.
The Five are visiting South Africa at the invitation of President Jacob Zuma and the ANC, the organisation which Cuba supported by sending troops to fight the apartheid South African forces in Angola during the 70s and 80s.
"It is a very important visit for us because it is a way to thank South Africa and other African countries that supported the release of 'The Five'" they said in a statement from the Cuban Embassy in Pretoria.
The Five are due to participate in several events in Parliament in Cape Town to mark the involvement of the Cuban Revolution in the struggle for independence in South Africa.
They will also visit Pretoria and Johannesburg where they will visit the Museum of "Apartheid" and other historical landmarks as well as tours of the provinces of KwaZulu-Natal, Limpopo and Free State.
On 3 July they move to Namibia and Angola, where three of them fought alongside the Angolan Government and the liberation forces of South Africa and Namibia against "apartheid" government armies.
During the African tour, they will meet solidarity groups, personalities and Cuban volunteers working in the three countries.
"The five anti-terrorist heroes," as they are known in Cuba were arrested in 1998 in the United States for infiltrating terrorist organisations planning attacks against Cuba form South Florida. They were sentenced to long and unjust prison terms which saw an international campaign launched for their freedom and justice.
On 17 December, as a result of the agreement between Cuba and the United States to restore diplomatic relations, the final three prisoners were released.
In February, Cuban President Raul Castro, decorated "The Five" with the title of Hero of the Republic of Cuba, the highest distinction awarded by the Government of the island, to comply with "dedication, dignity and firmness" in the " sacred mission "to defend the country from terrorism.
The Cuba Solidarity Campaign in Britain, together with trade unions and British MPs have invited Rene Gonzalez of the Five to come to Britain on two occasions. However, on both, the British government has refused them entry visas. This decision is being challenged in court in October 2015.
---