Guinea President Thanks Cuba as Medics Prepare to Return Home
This article originally appeared on TeleSUR | Friday, 22 May 2015 | Click here for original article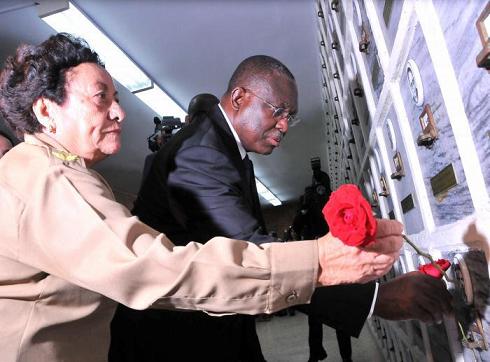 The African leader praised Cuba for the "invaluable aid" to Guinea in the midst of such a complex crisis
Guinea's President Alpha Conde met Thursday with a group of Cuban doctors who are returning home after they accomplished their mission in the African nation in the battle against the Ebola crisis.
The last group of specialists attended a ceremony at the country's presidential palace where the president thanked them on behalf of all the Guinean people for their work in battling the deadly epidemic since they arrived last October.
The president also praised the government of Cuba for the "invaluable aid" to Guinea in the midst of such complex health situation.
During the ceremony, they also paid tribute to Jorge Juan Guerra Rodriguez, a part of the island's medical brigade who died after contracting Malaria.
Cuba sent a team of 256 health professionals – including 83 doctors and nurses – to Ebola-hit West African nations to help stem the spread of the deadly disease, which has killed almost 11,000 people since December 2013, according to the World Health Organization (WHO) figures.
The Cuban contingent of medical workers is the largest sent by any country to tackle the spread of the Ebola virus, and all of the health professionals are volunteers.
---