French President Calls for End of US Blockade Against Cuba
This article originally appeared on TeleSUR | Monday, 11 May 2015 | Click here for original article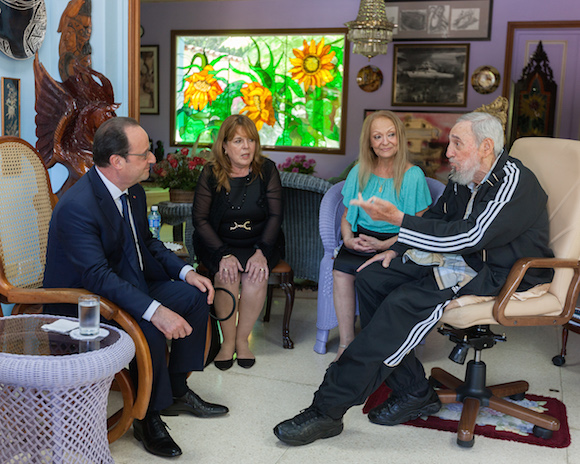 Francois Hollande is in Cuba for an official visit, becoming the first French president to visit the island. French President Francois Hollande, in Cuba for an official visit Monday, is calling for an end to the U.S. blockade on the island.
"Anything France can do to make sure ... the opening is confirmed, so that the measures that have so harmed the development of Cuba can be rescinded, so that the identity of each country is respected, this is what has to be done,"
Hollande said after he made a speech at Havana University. The French president also reminded the crowd that France has consistently voted at the U.N. to end the blockade.
Hollande also praised the positive role that Cuba has historically played in the region, citing Cuba's role as the host for the Colombian peace negotiations between the Revolutionary Armed Forces of Colombia (FARC) and the Colombian government.
The French leader was joined at the event at Havana University by Cuban Vice President Miguel Diaz-Canel, where the two leaders signed four cooperation agreements between universities from their respective countries.
​Hollande is the first leader of the French Republic to visit the Caribbean nation, and the first leader from Western Europe to visit since Cuban President Raul Castro announced a thaw in relations with the United States in December 2014.
Raul Castro and Hollande are expected to meet on Monday. Hollande is also expected to lay a wreath at the monument to Cuban national hero, Jose Marti at the Plaza of the Revolution.
---