Cuba ensures no one is left behind in the AIDS response
UNAIDS | Tuesday, 17 November 2015 | Click here for original article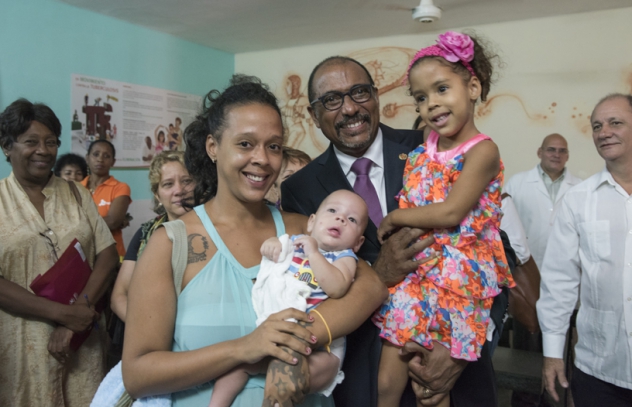 Earlier this year, Cuba became the first country to receive validation from the World Health Organisation that it had achieved the elimination of mother-to-child transmission of HIV and syphilis. Reaching this milestone is a testament to the investment that Cuba has made in its health-care system and its people.
During a visit to Cuba from 11 to 13 November, UNAIDS Executive Director Michel Sidibé congratulated dignitaries on their commitment and the progress made in the national AIDS response.
While in Cuba, Mr Sidibé learned more about different aspects of its national health system. He spoke with experts at the Pedro Kourí Institute of Tropical Medicine, the leading research centre for the prevention, diagnosis and treatment of communicable diseases, including HIV. He also met with health-care workers and people living with and affected by HIV at the Vedado Polyclinic, which integrates health services with community participation, and visited the Cuban National Center for Sex Education, an institution that has been instrumental in advancing sexual health and human rights.
Mr Sidibé highlighted that human rights and social justice are important to achieving better health outcomes for all and ending the AIDS epidemic by 2030.
People are at the centre of Cuba's health strategy and AIDS response. The country has adopted laws and policies prohibiting discrimination against men who have sex with men and transgender people. Since 2008, sex reassignment surgery and hormone replacement therapy are offered free of charge to Cubans.
Mr Sidibé recognised Cuba's outstanding contributions to South–South cooperation, especially in the areas of health and education. Recently, for example, Cuban doctors helped contain the Ebola outbreak in West Africa. Given the country's vast experience, he encouraged Cuba to share lessons learned and best practices from its HIV response with other countries in Latin America and the Caribbean, and also in Africa.
During Mr. Sidibé´s stay, he met with the Minister of Health, the Minister of External Trade and Foreign Investment and the Vice-Minister of Foreign Affairs. He also participated in an event where the Mayor of Havana signed the Paris Declaration, adhering to the call to Fast-Track the HIV response.
Quotes
"I praise Cuba for its universal health-care coverage. Its welfare and social protection system has ensured that people living with HIV have access to health services and treatment free of charge."
Michel Sidibé, UNAIDS Executive Director

"Our main assets to respond to HIV are our human resources. Let's show the world that we can reach the end of the AIDS epidemic as a public health problem."
Roberto Morales Ojeda, Minister of Health, Cuba

"An effective response to HIV should include key populations. At the Cuban National Center for Sex Education we work for the rights of lesbian, gay, bisexual, transgender and intersex people."
Mariela Castro, Director of the Cuban National Center for Sex Education

"The city is committed to reach the 90–90–90 treatment target. We will focus on key populations."
Marta Hernández, Mayor of Havana, Cuba
---