Clarification regarding Argentine doctors trained in Cuba
Granma | Wednesday, 6 January 2016 | Click here for original article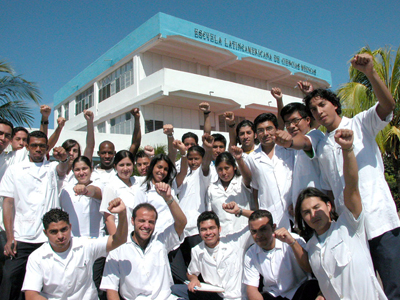 The Tatú Project group clarified today that reports by various media outlets regarding the nullification of medical credentials of Argentine doctors trained in Cuba are false.
Concerning the confusion, Tatú Project, composed of young graduates from the Latin American School of Medicine (ELAM), noted, "There is no legal way to nullify credentials once the qualification has been awarded."
In the event that a graduate's credentials are questioned, there exists an accord within the framework of the Vienna Convention which ensures that their status is protected for two years from the date the query is submitted, explains Tatú Project, whose members provide health services to residents in poor areas of Buenos Aires under the maxim "A dignified life for all."
The group also clarified that "it is the Ministry of Education and not the Ministry of Health or the nation's Health Minister, Dr. Jorge Lemus, as press reports have stated, which has the authority to recognise qualifications."
The project's director, Gino Straforini, commented to Prensa Latina, "We are eternally grateful to Cuba, her people and Fidel Castro, because without this great feat of Latin Americanist solidarity, we would never have become doctors."
The statement by the group also added, "We regret that many sympathetic press agencies have reproduced this unfounded information, creating great confusion."
Questioned on January 5 regarding the situation, Patricio Ancarola, spokesman for Argentina's Ministry of Health, refuted claims that sector minister Dr. Lemus had made such a decision.
Over the last 17 years ELAM has trained tens of thousands of young doctors from 60 countries, including the United States. During this time, more than 600 Argentine students have graduated from the institution.
NB. This story was updated after it was seen that the original story was false
---