Raúl meets with delegations to Colombian peace talks
Granma | Monday, 18 January 2016 | Click here for original article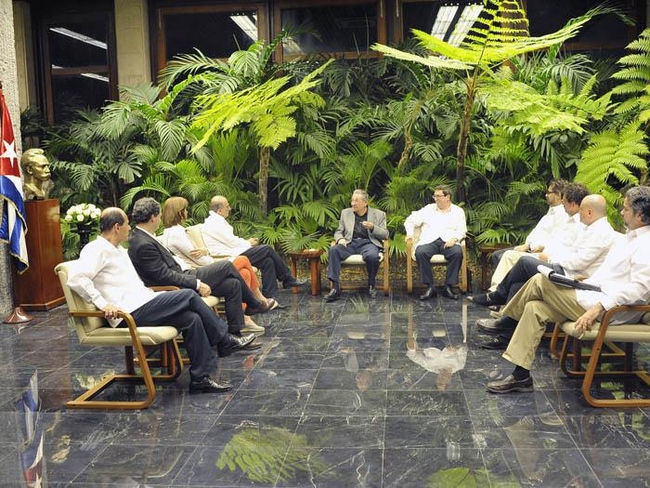 Cuban President Raúl Castro Ruz held a meeting yesterday evening, January 17, with representatives from the Colombian government and the Revolutionary Armed Forces of Colombia-People's Army (FARC-EP) delegations, participating in peace talks in Havana.
Progress in the talks was discussed in a constructive environment, and the interest of both parties in continuing to advance toward an agreement, within the shortest time possible, was reaffirmed, to put an end to the 50-year conflict and establish a lasting peace in Colombia.
Both delegations expressed their gratitude to Raúl for Cuba's contribution as a guarantor and site of the talks.
Participating for the Colombian government were delegation leader Humberto de la Calle; Sergio Jaramillo, high commissioner for Peace; and Foreign Minister María Angela Holguín.
The FARC-EP was represented by commanders and Secretariat members Iván Márquez, head of the peace talks delegation, and members Pastor Alape and Carlos Antonio Lozada.
Accompanying Raúl were Foreign Minister Bruno Rodríguez Parrilla; Deputy Foreign Minister Rogelio Sierra Díaz; and head of the peace talks guarantors' delegation, Rodolfo Benítez Verson.
---