Cuban internationalism at work
Granma | Wednesday, 20 January 2016 | Click here for original article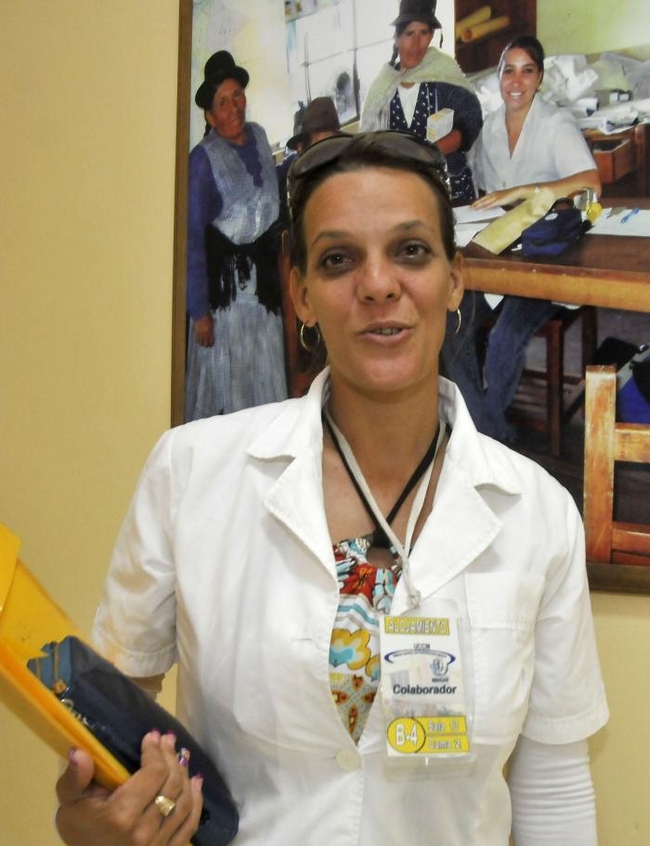 "We insert ourselves into the family environment in communities and ethnic groups, as part of a project created two years ago called Mi Salud (My Health), which aims to share Cuban experiences in the field of community medicine and provide primary care to the population in family clinics and medical centers"
Dr. Elisabeth González Leyva, is currently enjoying her vacation in Cuba, but since 2013 has been working in Bolivia as deputy coordinator of the Cuban Medical Brigade in the departments of Cochabamba and Tarija.
González Leyva spoke to Granma International during a visit to the Central Unit for Medical Collaboration, in Havana.
"We insert ourselves into the family environment in communities and ethnic groups, as part of a project created two years ago called Mi Salud (My Health), which aims to share Cuban experiences in the field of community medicine and provide primary care to the population in family clinics and medical centers," notes the Comprehensive Family Medicine (MIG) specialist.
She adds that some 715 collaborators currently offer services in nine of the country's departments, with the support of Bolivian healthcare professionals and doctors trained in Cuba. They all work together to consolidate strategies, draft protocols, incorporate indigenous practices, carry out scientific research, and combine work procedures.
"We go to remote and hard to reach areas," explains the doctor, "We organise Health Fairs, during which a group of specialists, including osteopaths, cardiologists, gynecologists, dermatologists and pediatricians, among others, travel to remote communities in order to diagnose, treat and manage illness prevention measures, actively implemented by the population, and which give visibility to our brigade."
Melbin Benítez Hernández, also a Comprehensive Family Medicine specialist, provides a point of comparison with the Bolivian reality, having inaugurated the pioneering family medicine project in the central municipality of Florida, Camagüey province, later taking it to Venezuela, Guatemala and Nicaragua.
"In Venezuela I worked in a family clinic located in a private residence, on La Cruz hill in the town of Santa Ana, Nueva Esparta state, from 2003 to 2007. I offered services in Guatemala from 2008 through 2010, in a medical center in the municipality of Isxán, seven hours from the capital, and some 60 kilometers from the border with Mexico. Meanwhile, in Nicaragua, they placed me in Muelle de los Bueyes municipality, South Atlantic Autonomous Region, from 2012 to 2014," stated the doctor.
He recounts moving tales of each place, in particular the pain of witnessing the high degree of child exploitation, primarily in Central America, where countless youngsters are employed in agricultural work. "Many suffered from malnutrition, rags barley covering their small bodies and always barefoot, they were bitten by venomous snakes almost everyday."
Dr. Melbin Benítez Hernández notes that child labor is a reality in many Central American countries, for example in corn cultivation, a situation he is trying to combat through his work.
In such places, doctors are provided with the necessary conditions to carry out their work, including solar power electricity, liquefied gas to cook, and bottled water, according to MIG and Radiology specialist Francisco Javier Cabrera Laya, from San Antonio de los Baños, Artemisa province, who has worked in Guatemala (2002-2003); Venezuela (2003-2007) and Bolivia (2007-2009).
The doctors live among the residents for a while and later spend a few days at the municipal brigade headquarters where they receive information, are updated on medical matters, hold meetings and contact their families in Cuba.
"The healthcare center located in Quichet, Guatemala, had no portable water, electric lighting, or fuel for cooking. The Medical Brigade Directorate and community leaders however, provided me with the necessary basic conditions. I stayed there for 22 days, while I spent the remaining time with my group, based four hours away by dirt roads," notes the young doctor.
Reflecting on the personal significance of his humanitarian effort he states, "When we offer services abroad, we are always thinking about trying not to fail the population, this motivates us to keep working in those inhospitable places.
We work with the poorest sectors of society and see the social inequality caused by capitalism. We learn about foreign disease and make a real effort to try and build a different kind of society."
This sentiment is shared by Information Management graduate, Yainet Concepción González, medical records specialists from the western province of Pinar del Río, who participated in Operation Miracle in the city of Maracaibo, Zulia state, Venezuela, from 2005 to 2007.
"In Venezuela, we Cubans follow political developments, are very familiar with the national electoral processes, how the country's parliament works, disputes between government and opposition forces, the defamatory media campaigns, attacks by the right wing owing to Chavista resistance, all of which teaches us to love Cuba."
Her work involves collecting health statistics which are then processed and used by local and government authorities. However, she also offers support to medical groups during home visits to identify untreated cases, responsibilities she will continue to carryout in Bolivia.
Yainet states, "We are experiencing historic moments in Venezuela. Many changes to Venezuelan society have occurred, transformations which our Bolivian brothers wish to develop. These events have strengthened my convictions, and I now find myself needing to share these experiences with friends, relations and neighbours. Today, I feel like a better person."
---