Cuba and US Sign Deal on Commercial Flights
Telesur | Tuesday, 16 February 2016 | Click here for original article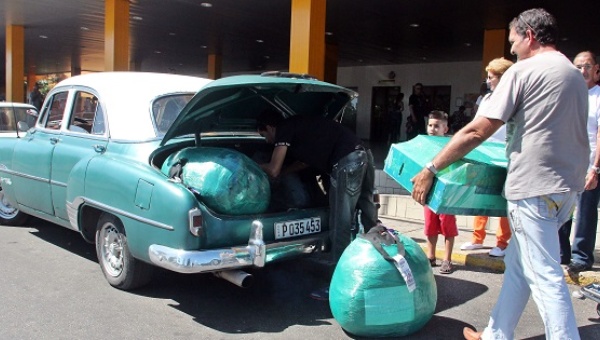 The deal will allow for up to 110 flights per day from the United States to Cuba.
Commercial flights between Cuba and the United States are set to begin soon with the two countries about to sign a civil aviation deal Tuesday that will allow airlines to freely travel to Cuba for the first time since the blockade was imposed on the island over 50 years ago.
Cuba's Foreign Ministry announced that authorities from both countries will meet Tuesday at the National Hotel in Havana for a signing ceremony.
The signing of the agreement is being praised as yet another step forward for bilateral relations between Cuba and the U.S. However, the agreement does little to end the illegal blockade on the island.
The agreement will likely lead to cheaper flights and a subsequent rush of U.S. travellers to Cuba, given previously only pricey chartered flights made the trip to Cuba from U.S. soil.
Travel to Cuba from the U.S. increased by 70 percent in 2015. The availability of commercial flights is set to provide a boost to the Cuban economy. U.S. travellers are still technically prohibited from visiting Cuba for tourism, travel under 12 categories however is permitted.
Also at issue is the capacity of Cuba's tourism sector, which may be overwhelmed by U.S. visitors.
U.S. residents living near Canada would also often travel to Cuba via Canadian airports. Unlike the U.S., Canada maintained relations with Cuba after the triumph of the Cuban Revolution.
American Airlines, United, JetBlue, Southwest and Delta all reportedly have an interest in establishing regular travel to Cuba. Airlines will have 15 days to submit proposals to the U.S. Department of Transportation.
The agreement also allows Cuban flights to the United States, however U.S. Deputy Assistant Secretary for Transportation Affairs Thomas Engle told the Miami Herald that the U.S. does "not anticipate Cuban-owned aircraft serving the United States in the near future."
According the Engle, there is concern that Cuban-owned aircraft could be seized by U.S. officials in an effort to collect on outstanding judgments issued against Cuba over the expropriation of U.S. assets after the revolution.
The deal was reached in December 2015 but could only come into effect after the Obama government eased sanctions on Cuba in late January.
---