The Venezuelan Revolution will overcome!
Granma | Friday, 11 March 2016 | Click here for original article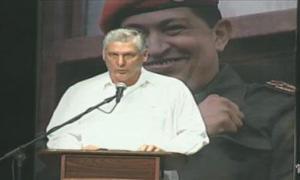 Dear President, compañero Nicolás Maduro;
Distinguished guests;
Dear Venezuelan brothers and sisters:
With profound emotion and revolutionary sentiment we wish to share with you, as part of this act, some ideas that express the sentiment of revolutionary Cuba, the Cuba of Fidel and Raúl, with the sister Bolivarian Republic of Venezuela, with her people, with her legitimate government and, in particular, with Chávez, because for us Chávez lives on. (Applause)
As an affront to the memory of the eternal and invincible Comandante President Hugo Rafael Chávez Frías and the peoples of Our America and the world, a few hours ago the President of the United States of America decided to extend for another year the unjustified, disproportionate and dangerous executive order declaring a "national emergency," considering that the Bolivarian Republic of Venezuela constitutes an "unusual and extraordinary threat to the national security and foreign policy of the United States."
Once more, the empire demonstrates that its aggressive essence and contempt for our peoples have not changed, reiterating its threats against a peaceful, solidary sister nation, and ignoring the unanimous indignation and condemnation that the issuing of this infamous order prompted just a year ago.
I want to repeat, and also reaffirm, what Army General Raúl Castro Ruz expressed during the 7th Summit of the Americas, in Panama, on April 11, 2015, and I quote: "Venezuela is not, nor can it be, a threat to the national security of a superpower like the United States." And he added: "I must reiterate our total support, resolute and loyal, to the sister Bolivarian Republic of Venezuela (Applause), to the legitimate government and the civic-military union led by President Nicolás Maduro (Applause), to the Bolivarian and chavista people who are struggling to follow their own path and facing destabilization attempts and unilateral sanctions which we demand be lifted, that the Executive Order be revoked" (Applause).
President Hugo Chávez was no longer physically present and it was opportunistically thought, as some continue to erroneously think, that those who succeeded him could not defend his legacy, and that it was time the Bolivarian Revolution paid its dues. There was no lack of attempts to set Venezuela and Cuba against each other, offering the stick to one and the carrot to the other.
In one of his most intimate confessions, when he was already fully aware of his historic destiny, Chávez recalled the noted phrase that Fidel Castro ended his plea of self-defense with, appropriating it for himself, paraphrasing it in terms of the meaning that his life had taken, "History will absolve me."
As such, absolved by the whirlwind of the revolution unleashed with his coming to power, Chávez established himself forever in the hearts of his people and those of all America (applause), which is why we are here today, on behalf of Fidel, Raúl and all Cubans, to pay tribute on the occasion of the third anniversary of his passing.
In Chávez, the extraordinary gifts of a profound thinker and revolutionary strategist converged with infinite sensitivity, energy, and the ability to convince and put his advanced ideas into practice.
An exceptional, passionate and optimistic public speaker, he believed in the invincibility of the human spirit. The expression and sum of the most authentic Venezuelan popular culture. Lover, as much as any other, of his homeland, his faith and his people, a born political and military leader, his adversaries underestimated him, incapable of appreciating his intelligence and vision. And he was, above all, an infinitely solidary human being.
We Latin Americans and Caribbeans will never forget him uniting various wills, smoothing things over, to recover the dream of regional integration. Those who viewed his generosity as squandering the riches of Venezuela, were the same who for years defrauded their rightful owners, denying them (of these riches). (Applause)
Today, when the economic crisis, the collapse of oil prices and economic sabotage rock the country, there are those who aim to forget or refuse to remember that thanks to the generous and just revolution that Chávez unleashed, millions of Venezuelans were brought out of extreme poverty and hunger, gained access to health services, education and culture, and obtained jobs and housing. (Applause)
Today, President Nicolás Maduro and his team are determined to continue and consolidate everything that Chávez began, with the majority support of the people, focused on ending the rentier model, diversify production, guaranteeing basic services to citizens and creating a better security environment.
What more could have been achieved with more patriotic attitudes and respect for Venezuelan sovereignty, and less internal boycott and external aggression and subversion.
From experience we know that success depends on four key factors including: limitless fidelity to ideas and a just cause, which in this case are those of Bolívar and Chávez; the indestructible unity of all revolutionaries; the joint and tireless work of all; and an infinite faith in victory. (Applause)
Venezuelan brothers and sisters:
I speak not only as a representative of the state, the Party and the people of Cuba. I also do so as a Cuban who was born with the Revolution and grew up and has lived all this time subjected to aggression and the criminal economic, financial and commercial blockade, who chose the same destiny as the vast majority of his compatriots and therefore has had the privilege to live this moment of recognition of the existence of the Cuban Revolution and the socialist state in Cuba.
The path taken by our people to reach the announcements made simultaneously by the Presidents of Cuba and the United States on December 17, 2014, has been long and heroic. On the basis of respect for sovereign equality and without harm to national independence or self-determination of our people, we are willing to discuss the most diverse topics reciprocally and to continue dialogue, convinced that civilized coexistence is possible, despite our profound differences.
The normalization of bilateral relations is a challenge, which necessarily involves the lifting of the blockade and the return of the territory illegally occupied by the U.S. Naval Base in the Cuban province of Guantánamo. (Applause)
But it was a greater challenge to have reached this point. If revolution is a huge change in the lives of human beings, the revolution must be a movement, resistance, rebelliousness, risks, and the willingness to face them with very few resources and lots of creativity, solidarity, morale and principles. (Applause)
We revolutionaries are never alone. The Cuban Revolution was never alone and nor is the Bolivarian Revolution at this crucial time (applause), which is no threat to anyone, but rather hope and a bastion of solidarity (shouts of: "Thank you, Cuba!") Thank you, Venezuela! (Applause) It does not matter that imperialism and oligarchies launch attacks against revolutionary and progressive processes. We will not lose sleep over it. Do not worry about funeral announcements: you have already demonstrated that while a single Chavista remains alive and fighting, the revolution will remain standing. And you are millions. (Chants and applause)
During his last election campaign, aware that his time was up, the Comandante summoned Venezuelans and all Latin Americans to consider themselves Chávez, with that call of "We are all Chávez!" he gave us the very last of himself, his own identity, to make it our own, to multiply in each of us as a means of redemption and faith in victory.
This is the man to whom we come to pay tribute today in Caracas. Cuba's best friend. (Applause) He who affirmed that no matter how much he did, it was not a sacrifice, while he complained about time, which was insufficient for all he had to do. "The people," Chávez assured, "expect a lot from us, and we must not disappoint them. They have been waiting centuries."
Inspired by the ideas of great men such as Bolívar and Martí, Che, Fidel and Chávez, we have all dreamed of a better and possible world and begun to build it. We will never give up on this. (Applause)
We do not want wars. We do not want blockades. We do not want interference. We do not want subversion. We do not want sabotage. We do not want models of selfish accumulation of wealth for a few imposed upon us. We want peace. We want social justice and equity. We want sustainable development. We want security and respect for our sovereignty and independence. We want to share what we have. We want happiness and prosperity for all. And we want the full integration of Our America. (Applause and shouts of: "The people united will never be defeated!")
Therefore, we emphatically demand the revocation of the executive order against Venezuela, we call on the international community to join us in this just demand and we reiterate once again, resolutely and loyally, our unconditional support for the Bolivarian Revolution, the legitimate government of President Nicolás Maduro and the Venezuelan people, who are struggling to keep the peace, maintain constitutional order, the gains of their revolution and the legacy of Comandante President Hugo Chávez, (applause) against the destabilizing attempts of the internal opposition, encouraged by the United States and its allies.
Once more we condemn the arbitrary, prolonged and cruel campaign of economic and psychological warfare against the Bolivarian government and people. We will not renounce the inclusive and emancipatory ideas that Fidel and Chávez have instilled in us.
Today, as we remember Chávez, I recall the memory of my compatriots, victims 56 years ago of the sabotage of the ship La Coubre, in the port of Havana, and the call of Fidel at that time to resist and overcome, with the historical slogan of "Homeland or Death! We shall overcome!" (Applause)
Venezuelan brothers and sisters: The Venezuelan Revolution will overcome!
Chávez lives! (Applause and shouts of "Chávez lives!")
---