At Least 3 Glaring Holes Left After Obama's Visit to Cuba
Telesur | Wednesday, 23 March 2016 | Click here for original article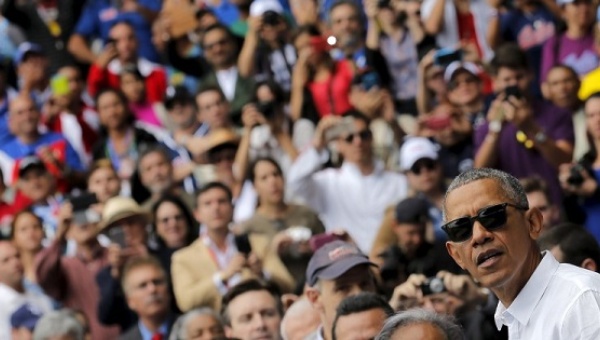 Hailed by much of the media as a success, the visit of the U.S. president left many questions unanswered.
Liberals around the world have hailed the historic visit of U.S. President Barack Obama to Cuba as an out-and-out success for the outgoing leader.
The New York Times paints a picture of Obama as magnanimous and progressive: a symbol of democracy among a struggling regime. The newspaper tried to suggest that Obama gave his Cuban counterpart, Raul Castro, friendly tips.
"Throughout Mr. Obama's visit, a dynamic of cautious warmth pervaded his interactions with Mr. Castro, including when the younger American president appeared to coach the older Cuban through his first genuine news conference on Monday."
In reality, Obama's trip was a victory for an unyielding Cuba, whose people and leaders never surrendered in the face of a decades-long, U.S. onslaught. It marks the first time in 88 years that a U.S. president has touched Cuban soil. It's an admission by the Obama administration that U.S. policy toward Cuba has failed. Yet in spite of all this, some raw wounds in diplomatic relations remain undressed.
Cuba insists that before there is a normalisation of relations between the two countries, the U.S. must end its 55-year-old blockade; return the illegally-held Guantanamo Bay; change its immigration policies toward Cuban migrants; stop transmitting radio propaganda into the country and attempting to build an opposition; and finally stop all attempts at regime change.
Despite Obama's good-sportsmanship while participating in a comedy skit, none of these subjects were dealt with during the fleeting trip.
Not to mention that Obama left Cuba en route to Argentina during the 40th anniversary of the bloodsoaked U.S.-backed coup there and that he recently renewed a decree declaring Cuba's close ally Venezuela a "threat," and shows no signs of improving relations with the South American oil-producing country.
Illegal Blockade Continues
The U.S. president failed to change policy over the illegal blockade, or apologize for the crippling financial damage it has caused over more than half a decade.
"It's time to lift the embargo, but even if we lifted the embargo tomorrow, Cubans would not realise their potential without continued change here in Cuba," Obama said in a press conference on Tuesday.
An admission that the blockade needs to be lifted is one thing: enacting it is another.
Just last month, Obama renewed a 20-year-old state of national emergency to continue to administer the blockade against the Caribbean island, prolonging the economic policy begun under President Bill Clinton in 1996, using emergency powers sanctioned by Congress.
It bans ships and planes from the U.S. from entering Cuban waters or airspace without government permission, and requires the president to annually renew these emergency powers.
According to the United Nations, the U.S. blockade has cost Cuba more than US$117 billion, deprived Cubans of life-saving medicines, and caused extra hardships for millions of Cubans.
Abuses at Guantanamo Bay
Obama did not acknowledge the horrifying human rights abuses committed by U.S. citizens at Guantanamo Bay detention facility.
While Cuban President Raul Castro was confronted by U.S. reporter Jim Acosta over Cuba's "political prisoners," Obama was spared uncomfortable questions over violations of human rights committed by North Americans on Cuban soil.
Last month, Obama presented a long-awaited plan to close the controversial prison.
But Guantanamo entered its fifteenth year of operation this year, according to activists since it opened on January 11, 2002, nine prisoners have died in the facility.
Prisoners at the infamous U.S.-run prison have asked authorities to halt the inhumane practice of force-feeding hunger strikers.
Former prisoners, many held for years without charge, recount experiences of waterboarding, prolonged isolation, and other physical and psychological torture.
"They did things to us that is against humanity, against human rights and against Islam. I cannot even talk about that and I will not talk about it," elderly former inmate Haji Nasrat Khan told the BBC in 2014.
US Immigration Policy
Obama also declined to address his country's immigration policy towards Cubans, encouraging them to pack up and leave the Caribbean island for the U.S. with the promise of guaranteed legal residency and eventually citizenship. It's the only group of people given such a privileged status by the U.S.
The practice is cruel: the U.S. itself, with its economic and trade restrictions, created much of the poverty that Cubans try to flee, while at the same time urging Cubans to leave their home country.
Furthermore it's extremely dangerous: scores of Cubans have been killed making the treacherous journey from Cuba to the U.S., sometimes drowning in the Gulf of Mexico, or subjected to the whims of human traffickers if taking an indirect route through other Latin American countries, like Mexico.
In the same vein, the U.S. president met with Cuban dissidents on Tuesday, which agencies from his country skillfully helped to create.
Despite the thawing of diplomatic relations, the U.S. government continues to provide financial "assistance" to individuals and groups dedicated to "regime change" in Cuba.
Projects have included the launch of a social media network, ZunZuneo, to fuel opposition to to the government, and the infiltration of hip-hop movements. USAID spent more than two years trying to infiltrate Cuba's hip-hop movement, seeking to exploit the island's thriving cultural scene.
---