CSC and the Music Fund for Cuba host Orquesta Buena Vista Social Club after-party
Campaign News | Friday, 8 April 2016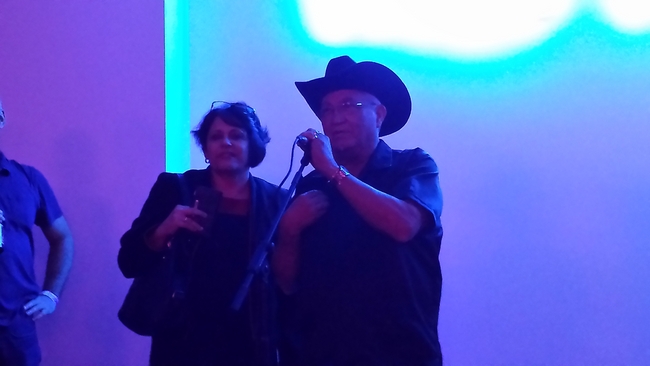 Orquesta Buena Vista Social Club last show in Britain and CSC's after show reception
'Estoy Como Nunca' – 'I'm better than ever!' was one of Eliades Ochoa's opening songs at the very last concert of Buena Vista Social Club in Britain on 6th April. After 20 years becoming the most famous Cuban band in the world – they really lived up to the song. A full review will of the show will feature in Spring's edition of CubaSi, which goes out to all CSC members and affiliates. (Not a member/affiliate? Join online here)
CSC and the Music Fund for Cuba hosted the after show party for 250 special guests in the back stage green room. CSC Director Rob Miller thanked the band, promoter Andy Wood and World Circuit's Nick Gold for their support for the event. He spoke of the wonderful ambassadors for Cuba and Cuban culture that the stars of Buena Vista had become. Cuban Ambassador Teresita Vicente welcomed the band members to the reception and thanked the audience for their solidarity and support for Cuban culutre. You can see a preview of the Ambassador's speech online here.
Eliades Ochoa, one of the most recognised stars of the group said at the after-party:
"Moments like these are some of the most beautiful moments in life. We are here with friends in this reception, with love, with respect and we are happy to share these times with friends like all of you" You can see footage of Eliades at the after-party here.
It really was a fabulous night that we will all remember.
-------------------------------------------------------------------
Get your fix of the brilliant music of Buena Vista Social Club from CSC:
The original album - Buena Vista Social Club 1997
The lost tracks album - BVSC: Lost and Found 2015
Browse www.shop.cuba-solidarity.org.uk for CDs by Ibrahim Ferrer, Omara Portuondo, Eliades Ochoa, Ruben Gonzalez, Cachaito, Anga Diaz and more.
---