Cuba sends medical personnel to Ecuador following earthquake
Granma | Monday, 18 April 2016 | Click here for original article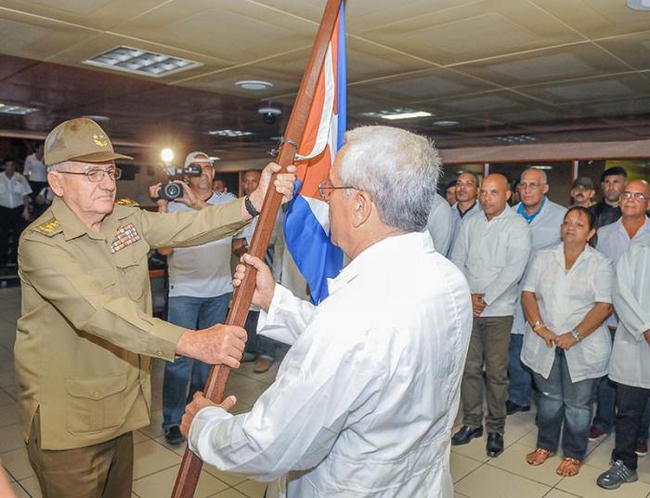 On Sunday evening, April 17, a brigade of the Henry Reeve International Contingent of Doctors Specialised in Disaster Situations and Large-Scale Epidemics left for Ecuador, backed by a search and rescue team, to provide assistance to the sister nation of Ecuador, following the earthquake measuring 7.8 on the Richter scale that shook the South American country on Saturday evening.
During a farewell ceremony held at the José Martí International Airport, Cuban Health Minister Roberto Morales highlighted Cuba's ongoing spirit of solidarity and readiness to collaborate with those most in need.
The activity was also presided over by the Hero of the Republic of Cuba, Vice Minister of the Revolutionary Armed Forces and member of the Party Political Bureau, Army Corps General Ramón Espinosa Martín; and Hero of the Republic, member of the Party Central Committee and head of the Civil Defense General Staff, Division General Ramón Pardo Guerra.
Meanwhile, Dr. Ernesto Betancourt, head of the brigade formed on this occasion by a total of 53 health collaborators, from Havana, Matanzas and Pinar del Río, noted that they were traveling to Ecuador armed with the altruistic values that have come to define their efforts.
On behalf of his fellow compañeros, he ratified the commitment to fulfill their duty to cooperate with the brotherly Ecuadoran people at this sad time.
Norka Rabelo, a critical care physician from Havana, told Granma she was proud to be taking part in these efforts and was ready to work hard to support the victims of the earthquake, which caused significant human and material losses.
Meanwhile, anesthesiologist Lázaro Manuel Fernández Suárez noted that this is his sixth internationalist mission, and that the efforts of the Contingent represented the maximum expression of solidarity.
On behalf of the search and rescue team, young dog handler Edel Llopiz Sánchez said he had an obligation to help any country in need.
A team of Cuban television reporters traveled together with the doctors and search and rescue team, to report on their experiences in Ecuador.
The earthquake that shook the nation on Saturday night was the strongest since 1979. The epicenter was the province of Manabí and the quake was also felt in northern Peru and Colombia.
---