We shall never forget Muhammad Ali's chivalry and ethic, his rejection of war and defence of peace: Raul Castro.
Post Zambia | Wednesday, 8 June 2016 | Click here for original article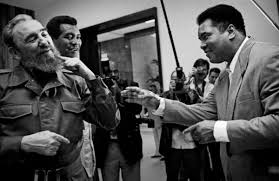 On behalf of the Association of Caribbean States (ACS) at the end of the bloc's 7th summit on Saturday, President Castro recalled Ali's respect and friendship with revolution leader Fidel Castro.
"First of all, we would like to convey our sympathy and solidarity to the family of the great boxing champion Muhammadi Ali; to the American people and particularly to the African American community whose rights he always defended; and to the international sports community," he said.
"We shall never forget his chivalry and ethic, his rejection of war and defence of peace; his respect with comrade Fidel, and with that great Cuban and Caribbean boxer [late] Teofilo Stevenson, the son of a citizen of Saint Vincent, and grandson of a citizen of Saint Kitts and Nevis on his mother side."
According to his family, boxing legend Ali died on Friday night of "septic shock due to unspecified natural causes."
The three-time world heavyweight champion died at a hospital in Phoenix, Arizona. He was 74. Ali, born Cassius Clay, had been suffering from a respiratory illness, a condition that was complicated by Parkinson's disease.
During his career lasting 21 years, he had 61 professional fights in which he claimed 56 wins including 37 knockouts. Ali sacrificed his belt when he refused to serve in the Vietnam war.
---