Adviser to Obama Asserts Cuba-U.S.A. Opening-up is Irreversible
ACN | Sunday, 12 June 2016 | Click here for original article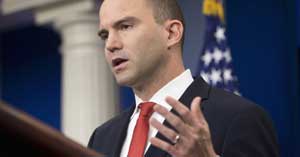 HAVANA, Cuba, Jun 11 (acn) The resumption of relations between Cuba and the United States is irreversible and legislative restrictions can be lifted by Congress, asserted presidential adviser Ben Rhodes.
Rhodes, Deputy National Security Adviser, made these remarks on Thursday night at a forum on cultural diplomacy with Cuba, held at the Meridian International Center in the U.S. capital, reported Prensa Latina.
According to the presidential adviser, "the crux of the matter is that the U.S. people and the Cuban people overwhelmingly want this to happen," highlighted the Washington Post on Friday.
"Frankly, he added, whatever the political realities of either country, anybody trying to disable this option would have to be working against the overwhelming wishes of their own peoples."
The White House official recalled that a large majority of the U.S. public, according to a wide range of opinion polls, was in favor of the reestablishment of relationships long before they happened.
Recent polls indicate that seven in 10 U.S. citizens support the lifting of the restrictions imposed by the economic, commercial and financial blockade imposed by the United States on Cuba for over half a century.
Republican Congressman Tom Emmer, of Minnesota, also acknowledged before the audience at the Meridian International Center that the majority of U.S. citizens support the lifting of the blockade against Cuba and the reestablishment of relations between Havana and Washington.
Emmer underlined that at this time the question is not whether the measures against Cuba are lifted, but when it will happen.
President Obama has used his executive authority to implement various actions related to Cuba, but the decision to finally repeal the laws supporting the blockade of Cuba will depend on Congress.
Presidential candidates Hillary Clinton (Democrat) and Donald Trump (Republican) have given the green light to the process of reestablishment of relations between Cuba and the United States.
Standing out among the major political figures opposing the reestablishment of bonds between the two countries are senators Marco Rubio (Florida) and Ted Cruz (Texas), of Cuban origin.
---