Returning to the homeland, happy and satisfied
Based on an article from Granma | Monday, 20 June 2016 | Click here for original article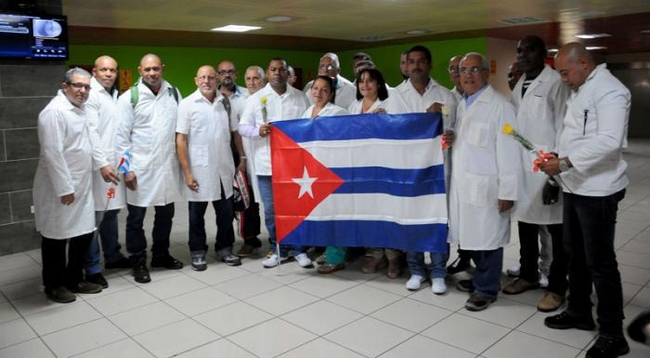 During the dawn hours on Sunday, 21 members of the Henry Reeve International Brigade returned from Ecuador where they had spent the last two months providing medical assistance to the population there in the wake of a devastating earthquake
Twenty-one members of Cuba's Henry Reeve international medical brigade providing assistance to the Ecuadorian people in the wake of a devastating April 16 earthquake returned home, early Sunday, June 19.
The group which had been in Ecuador for 62 days was received at Havana's José Martí International Airport by Marcia Cobas, deputy minister of Public Health.
During the reception ceremony, Deputy Minister Cobas noted that only an altruistic person with strong values is able to leave their loved ones behind and travel to a sister country, under difficult conditions, to support a population which will never forget the gesture, as she congratulated brigade members for their contribution.
Dr. Ernesto Betancourt, head of the contingent, reported that the group had treated some 10,400 persons and performed 780 surgeries. He presented Cuban Pubic Health authorities with the distinction Ecuador's National Assembly had granted the group expressing gratitude for the country's rapid response to the disaster.
Dr. Jorge Fonseca, intensive therapy specialist and founder of the Henry Reeve Brigade, was happy to be home to hold his four grandchildren on his lap, but reiterated his satisfaction, having been able to help where he was most needed, recalling that the faces of Cuban doctors brought hope wherever they arrived.
Also attending the welcome ceremony were Dr. Regla Luz Angulo Pardo and other officials from Cuba's Medical Cooperation Central Unit.
-------------------
Cuba has a long history of internationalism and helping others in need, including disaster relief. Read Seamus Milne's article 'Cuba's extraordinary global medical record shames the US blockade' here
---