Cuba reiterates solidarity with Palestine and calls for peace
News from Cuba | Thursday, 30 June 2016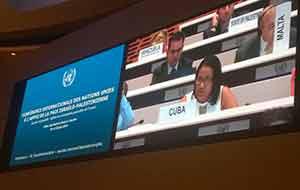 Cuba called for a definitive, just and lasting peace for all peoples of the Middle East in Geneva, noting that in this context the Palestinian cause can not continue to be ignored.
Speaking at a UN International Conference in support of Palestinian-Israeli peace, Anayansi Rodríguez, Cuba's permanent representative at the UN in this city noted that the island recognized efforts undertaken to date toward resolving the situation.
She highlighted the need for a genuinely viable and sustainable solution, which must include an end to Israeli occupation, promote peaceful co-existence between two independent states, on the basis of the establishment of Palestine as a sovereign state according to its pre-1967 borders, with East Jerusalem as its capital, as well as a just solution to the issue of Palestine refugees.
We express our full support for Palestine's right to become a member of the United Nations and we deplore the fact that this continues to be blocked by allies of Israel which, through their silence and compliant attitude, ensure the impunity of the former and continuation of the status quo, which is unacceptable, she stated.
Rodríguez described the world's historic debt with the Palestinian people which must be repaid. She called on the international community to take concrete and immediate steps to put an end to such a prolonged injustice.
Putting an end to the conflict and maintaining peace requires solidarity, cooperation, and renewed, systematic assistance from the UN and all its member states, noted Cuba's permanent representative.
In this sense Rodríguez highlighted that the international community must demand that Israel recognize the sovereignty, independence, and territorial integrity of the State of Palestine.
Despite repeated debates on the issue, Israel continues to implement aggressive policies and colonial practices, commit war crimes and impose sanctions against the Palestinian people, preventing them from exercising their fundamental human rights, which constitutes a threat to regional and international security.
My delegation reiterates once again its energetic condemnation of the Israeli colonization campaign in the Occupied Palestinian Territories and all measures, policies and practices, associated with the campaign, which violate international law, international humanitarian law and UN resolutions, she emphasized.
Rodríguez stated that the international community is calling on the UN to fulfill its responsibility and make a concerted effort to adopt the necessary decisions to put an end to the various forms of aggression perpetrated against the Palestinian people, including actions classified as state terrorism, which threaten the viability of a Palestinian State and the possibility of reaching a just, lasting solution to the conflict, she added.
---