Hundreds of New Doctors for Cuba and the World
Based on original articles from Granma and ACN | Friday, 22 July 2016 | Click here for original article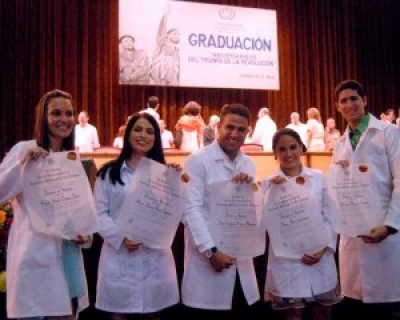 The University of Medical Sciences of Havana (UCMH), graduated 908 new health professionals, 784 Cubans and 124 from other nationalities in six medical courses on Wednesday.
Out of the total of graduates, 634 are medical doctors, who will take different specialties to meet the demand of primary and secondary health attention in Havana, while 98 of them will join medical services in the Bolivarian Republic of Venezuela, as announced by University rector Luis Alberto Pichs Gar­cía.
Another 199 students graduated as dentists, nurses and specialists in health information technologies.
The foreign graduates come from Latin America, North America, Asia and Africa, with 11 US nationals.
"Today not only represents the fulfilment of a goal, but also a starting point for our students, and we will be overjoyed when they enter the workplace, and have the opportunity to give the best of themselves… to contribute to consolidating the University's future work with their technical, scientific, humanist and revolutionary training," Luis Alberto Pichs Gar­cía said.
In regards to the institution's main aims over the coming years, he highlighted the consolidation of teaching, training and research strategies, which should help raise health indicators among the population, increase the quality of services and satisfaction levels, and ensure the development of the national healthcare system by making it more efficient and sustainable.
"The best way to graduate is to understand our responsibility to our people and predecessors," stated Claudia Iris Alemañy, who was awarded the most outstanding graduate award. "For us it is a privilege to join this army of white coats, which aims to continually explore the paths of human well-being," she noted.
"This feeling of joy isn't for us, but for you, dearest Cuba, for having enabled us today to say that we are Cuban doctors, defenders of the humble and just causes," stated Mohammed Abu Srom, from Palestine, who was voted the most outstanding international graduate, on behalf of the 124 foreign students from 32 countries who also received their diplomas.
---