Ciego de Ávila wind farm contributing to energy production
Granma | Thursday, 4 August 2016 | Click here for original article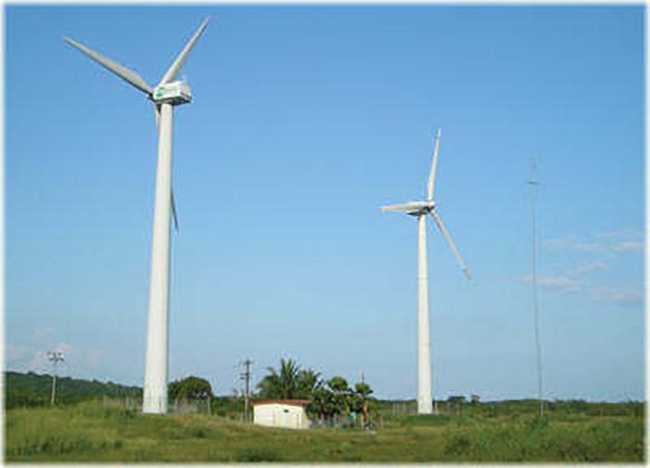 The first wind farm in Cuba is located in Turiguanó, an area in the north of Ciego de Ávila
Ciego de Avila.— The Turiguanó wind farm, in the north of Ciego de Ávila, has contributed 4,500 mega-watt hours (Mwh) to the National Electric System (SEN) over the last 15 months which, given that it takes 0.269 grams of fuel to generate a single kilowatt of energy, represents a saving of 1,168 tons of this non-renewable resource for the Cuban economy, as well as a reduction in carbon dioxide emissions, reported site Manager, Ri­del Ca­ñizares Jiménez.
According to Cañizares Jiménez, the farm is the first of its kind in the country and located in Turiguanó, an area in the north of Ciego de Ávila with an average wind-speed of 6.5 meters per second.
The two 225 kilowatts wind turbines have been undergoing a modernisation process this year to increase efficiency, he explained.
Cañizares Jiménez highlighted that work is already underway on the first of the two turbines, while the modernisation process is scheduled to begin shorlty.
Concerted efforts are underway in Ciego de Ávila to increase the use of renewable energy sources in order to support the country's economic development, as well as reduce the use of fossil fuels and environmental damage, added Ramón Acos­ta, renewable-energy specialist with the Ministry of Science, Technology and Environment's provincial delegation.
Despite the intense drought which has been affecting the province and entire country, the small hydroelectric power plant, part of the Liberación de Flo­ren­cia reservoir system also located in Ciego de Ávila's northern region, has contributed 550 Mwh to the SEN thus far this year, he noted.
There are currently 279 solar-powered water heaters in hotels and public buildings across the province, while 679 wind mills supply water to livestock.
Likewise, solar panels are helping to provide electricity to rural communities such as Las Pozas in the municipality of Ciro Redondo, and La Roma, in Baraguá.
Furthermore, harmful waste is efficiently utilised through 68 biogas digesters in the territory, the majority of which are located in the agricultural-cooperative sector, state swine production units, and one in a farm affiliated with the Ministry of the Interior, noted the specialist.
----------------------------------------------------
More news on renewable energy in Cuba: Pinar del Río preparing for greater solar energy use
---