Bruno Rodríguez addresses the United Nations General Assembly
Minrex | Friday, 23 September 2016 | Click here for original article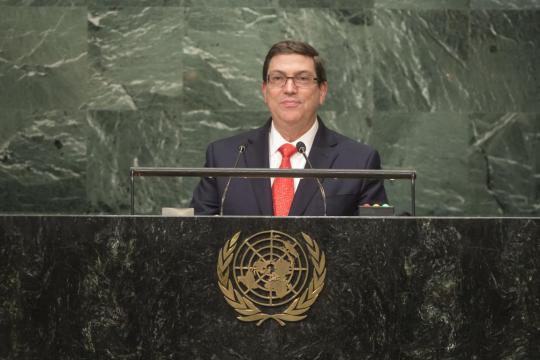 Cuba's Foreign Minister addressed the 71st session of the UN General Assembly on global inequality, the blockade and peace
NEW YORK, September 22, 2016.- "Eighty per cent of the world's population owns only 6 per cent of all the richness, while the 1 per cent richest enjoys half of the planet's patrimony. No less than 795 million persons in the world suffer from chronic hunger and every day 18 000 children die of poverty. More than 660 million persons consume unsafe water and 780 million adults and 103 million youths are illiterate", such statistics started off the statement by the Minister of Foreign Affairs of the Republic of Cuba, Bruno Rodríguez Parrilla, when addressing the General Debate of the seventy-first session of the United Nations General Assembly.
The Cuban Foreign Minister highlighted that the gap between our deliberations and peoples' realities persists, at the time the lack of political will of industrialised States becomes evident. He considered imperative to find a just and lasting solution to the Middle East and expressed opposition to the unjust and unilateral sanctions imposed against the Russian people, as well as, the conviction that the Puerto Rican people deserve to be free and independent. Likewise, he strongly condemned the parliamentary and judicial coup d'état perpetrated in Brazil against President Dilma Roussef and confirmed Cuba's support to the people and the government of Venezuela, the civic and military unity and the constitutional President Nicolás Maduro in the defense of its sovereignty and self-determination. He also welcomed the historic "Agreement between the Government of Colombia and FARC-EP for the Termination of the Conflict and the Construction of a Stable and Lasting Peace", reached in Havana.
Once again, the Cuban Minister stressed, that despite the blockade is still in force, as well as the serious damages and hardships it causes to the Cuban people and the way it continues to hinder the functioning of our economy and its relations with other countries, Cuba will not renounce any of our revolutionary and anti-imperialist principles; the defense of independence, social justice and people's rights nor our commitment to cooperate with those in greatest needs. While confirming there are numerous recent examples of the economic and financial damages caused by the Embargo to Cuba and third countries, he guaranteed that as long as this continues to happen, Cuba will continue to present to the General Assembly the draft Resolution entitled "Necessity of ending the economic, commercial and financial embargo imposed by the United States of America against Cuba". Furthermore, he demanded the return of the territory illegally occupied by the US naval base in Guantánamo against Cuba's will.
When defining peace and development as the raison d'être of the United Nations Organisation and the creation of a culture of peace and justice as the basis of a new international order, he noted: "The UN must be defended from unilateralism, and at the same time it needs to be reformed into a more democratic organisation that is closer to the problems, needs and aspirations of peoples; capable of leading the international system towards peace, sustainable development and the respect of all human rights for all." (Cubaminrex-Permanent Mission of Cuba to the United Nations)
---