Cuba-Brazil Mais Médicos programme to continue
ACN | Thursday, 29 September 2016 | Click here for original article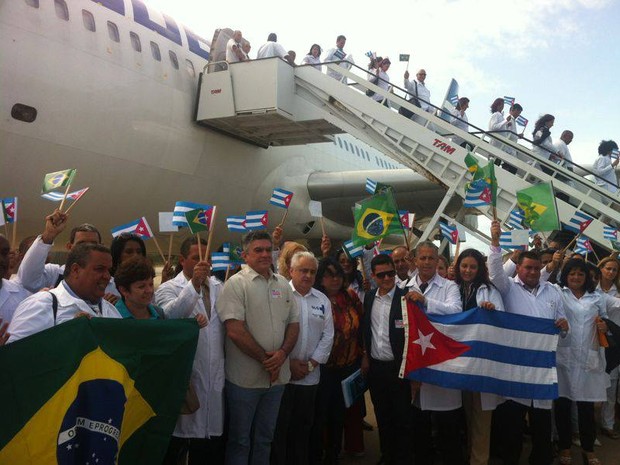 Dilma Rousseff and Lula support the continuation of the Mais Medicos program
HAVANA, Cuba, Sep 27 (acn) A communiqué issued by the Cuban Ministry of Public Health points out that since 2013, at the request of the government of President Dilma Rousseff and with the participation of the Pan-American Health Organization, Cuba joined the "More Doctors" (Mais medicos) program. The text adds that by way of this government program some 11,400 physicians have been working in Brazil during that period, which have offered their services in 3 356 municipalities representing 83 percent of the 4 058 taking part in the program.
If we take into account, continues the document, that there are 5 570 municipalities in Brazil, Cuban physicians have been present in two thirds of that country, benefiting 40 million Brazilians, particularly low income families. This has had a positive impact on that nation's health indicators.
In the face of the expiry date of the current agreement and amid recent events in Brazil, a special envoy of the Cuban government consulted still President Dilma Rousseff on May 30 , and also obtained the opinion of former President Luiz Inacio Lula Da Silva a day later, points out the text.
Dilma considered, reads the communiqué, that the "More Doctors" program should continue because it was an asset to the people of Brazil. She stated that Cuba had been an example for the work of its physicians and that they infinitely thanked the Cuban people and government for the generous gesture of sending their physicians to take care of the Brazilian population, while Lula, for his part, assured that the "More Doctors" program was an achievement already rooted in Brazilian culture and that it could not be lost, so keeping the work of the Cuban physicians would be an example not only for the people of Brazil but also for the world.
In correspondence, the Cuban Ministry of Public Health, committed to the principles of solidarity and humanism that have always guided Cuban medical cooperation, will continue participating in the agreement with the Pan-American Health Organization for the implementation of the "More Doctors" program, as long as guarantees offered by current authorities are maintained, concludes the text.
---