Cuba prepares for Hurricane Matthew
In Cuba Today | Tuesday, 4 October 2016 | Click here for original article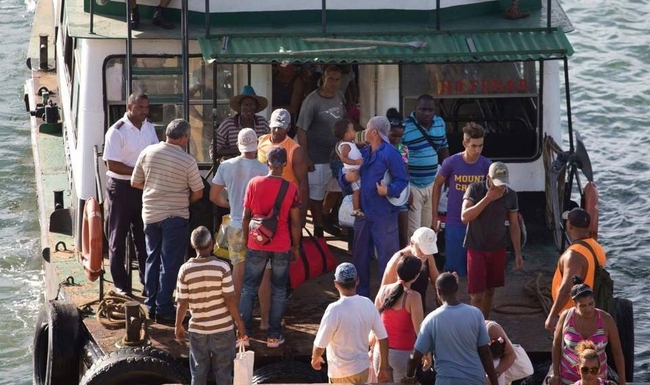 As Cuba evacuated tens of thousands of people from cays and low-lying coastal areas by boat and bus Monday, José Rubiera, Cuba's chief hurricane forecaster, said the brunt of Hurricane Matthew is expected to begin reaching Cuba in the late morning Tuesday.
But tropical-storm winds may begin to be felt between 10 p.m. and midnight Monday with hurricane-force winds arriving about 12 hours later, said Rubiera. The Cuban provinces of Camagüey, Guantánamo, Santiago de Cuba, Holguín, Granma and Las Tunas are under a hurricane warning.
The Category 4 hurricane was expected to clear Cuba between 8 p.m. and 10 p.m. Tuesday but Rubiera said Cuba might experience tropical storm-force winds for as many as 36 hours. And throughout the day Tuesday, he said Cuba's northern coast also could be slammed by high seas.
The government has been issuing frequent radio and television bulletins about the potential danger of high winds, heavy rain and storm surges.
Rubiera said Matthew could bring 8 to 12 inches of rain and as much as 16 to 20 inches in mountainous areas of the island.
"You need to pay attention to this very dangerous hurricane," Rubiera said during his nationally televised storm update. "There are still a few hours of the day to prepare. Tonight the weather will start to deteriorate rapidly in our eastern provinces."
Cuban leader Raúl Castro, along with members of his cabinet, arrived in Santiago over the weekend to begin personally supervising hurricane preparations and Castro toured Guantánamo, the easternmost province of Cuba, and Santiago to see how plans were advancing.
He paused Monday on the street in Santiago to exchange a few words with residents, according to the daily Sierra Maestra. "We have a lot of experience with what we lived through with Sandy. We've taken advantage of these experiences and the other provinces also are learning from these experiences. [Sandy] was a very tough hurricane."
Sandy, which hit the island on Oct. 25, 2012, left 11 dead in Cuba, damaged 137,000 homes in Santiago alone and resulted in heavy agricultural losses.
"I'm here because I feel — even though I was born elsewhere — I feel I am a Santiaguero like you. I know that here above all, you're ready to confront any situation immediately and overcome damages even if they're greater than what Sandy left."
During his tour of Santiago, Castro visited a solar farm where panels were being removed to prevent damage, hefted a chain saw, reviewed troops that will help in the hurricane recovery effort and talked with patients at the Mariana Grajales Maternity Hospital, according to the Cuban Television Information System.
Cuba has been evacuating hundreds of thousands of people from low-lying coastal areas and cays in the eastern provinces of Guantánamo, Holguín, Granma, Las Tunas and Santiago de Cuba or they have left voluntarily to join family and friends in more secure areas.
Civil Defence authorities estimated that as many as 179,000 people might have to be evacuated from Guantánamo and 252,000 from the province of Santiago.
Throughout the morning, coastal dwellers toting bedding and bags boarded buses or ferries that took them to shelters.
Livestock from cattle and horses to sheep and oxen also were being taken to higher ground.
Families were urged to stock up on sodium hypochlorite to purify water before, during and after Matthew's passage and to stockpile as much potable water as possible. Stores stayed upon late throughout the weekend so residents could buy hurricane supplies and workers were removing everything from traffic lights and signs to weak branches and trees that could become projectiles in heavy winds.
Cuba authorities said they were not only taking measures to blunt the effects of Matthew but also executing plans that would aid recovery efforts.
When Hurricane Sandy devastated Santiago and caused widespread flooding in other provinces, there was a long recovery period.
Castro told Cuban media that Matthew is a "hurricane for which it's necessary to prepare as if it is double the force of Sandy." When Sandy slammed ashore at Mar Verde beach four years ago, it was a Category 2 storm, packing winds estimated at 115 mph.
---