Hurricane Matthew hits eastern Cuba
Granma | Wednesday, 5 October 2016 | Click here for original article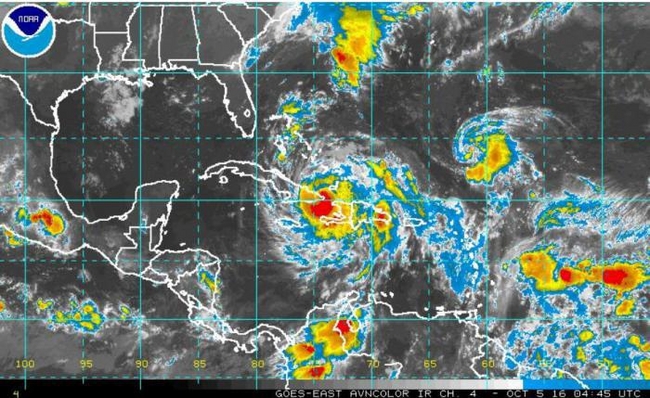 The eye of the hurricane made landfall shortly after 6pm on October 4, in the area around Punta Caleta, on the southern coast of Guantánamo province, moving northward at 15 kilometers an hour
The eye of Hurricane Matthew made landfall shortly after 6pm on October 4, in the areas around Punta Caleta, on the southern coast of Guan­tá­namo province, moving northward at 15 kilometers an hour as it passed over the island's easternmost region. According to forecasts, the hurricane is expected to move off Cuba by this evening, at a point close to Bahía de Mata, to the east of Baracoa.
According to Dr. José Ru­biera, from the Meteorology Institute's Weather Forecast Center, Matthew hit Cuba as an intense category four hurricane on the Saffir-Simpson 1-5 Hurricane Wind Scale, with maximum sustained winds of 220 kilometers an hour, higher gusts, and a 949 hectopascal minimal central pressure, making it the first hurricane of this magnitude to hit Guan­tá­namo province.
The eye of the storm passed further east than initially predicted, meaning rain and winds coming from the right side of the hurricane remained over the sea, thus reducing the impact on the island's eastern provinces.
Preliminary reports indicate intense rains across the entire eastern region of Guan­tá­namo, in particular the municipalities of Maisí, Imías, Ba­racoa and San Antonio del Sur, where several highways and mountainous areas in Santiago de Cuba, Granma and Holguín have reportedly been cut-off.
The south-east of the island began to experience moderate to strong coastal flooding on the afternoon of October 4, which spread to the northern coast of Guantánamo and Holguín by the evening.
At press time (October 4, 9:20 p.m.) the weather station in the municipality of Jamal had registered sustained winds of 140 km/h, reaching up to 180 km/h in the city of Baracoa.
---