Cuban President Assesses Hurricane Damage in Eastern Cuba
ACN | Wednesday, 12 October 2016 | Click here for original article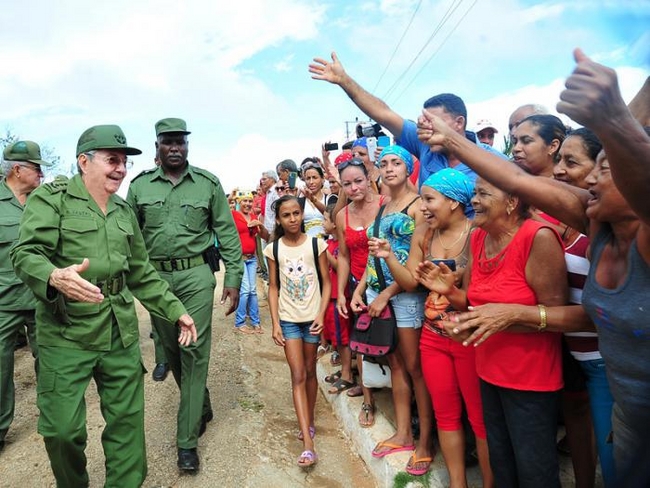 HAVANA, Cuba, Oct 11 (acn) Cuban President Raul Castro assessed the damage inflicted by hurricane Matthew in the easternmost zones of Cuba and said that it's now crucial to exactly and rapidly identify the damage to know what do in each area.
Raul held a working meeting Monday at the Municipal Defense Council of Maisi, one of the hardest-hit areas by the storm in eastern Guantanamo province.
According to Granma newspaper, the Cuban President was accompanied by the deputy minister of the Revolutionary Armed Forces, Army Corps General Ramon Espinosa, who has been supervising recovery measures in the most affected territories along other local and central government officials.
In his report to the Cuban President, the head of Guantanamo's Provincial Defense Council, Denny Legra, estimated that over 90 percent of homes were seriously affected, as well as most state-owned facilities. Communication systems, the electric network and water supply facilities were also severely damaged the official reported, as well as roads and agricultural areas, particularly coffee plantations.
The Cuban President stressed the need to urgently use alternatives to guarantee the people all necessary resources and called for using the learned lessons under hurricane Matthew to put them in practice in the event of future natural phenomena.
The local people greeted Raul Castro as he toured the streets of the eastern town and he told them that they have received a very hard blow by the storm but recovery will happen. The people enthusiastically thanked Raul and Fidel for always been by their side in difficult moments like this one.
Raul's visit encourages us to keep going ahead, Erodis Fuentes said, a local who gave shelter to some 40 neighbours in his home.
"I congratulate you because you are valiant, calm and very revolutionary; I'm proud of all Cubans throughout the country, but of you in particular because you have passed a very hard test", Raul said in reply to the enthusiastic people on the streets.
You can donate to the Cuba Hurricane Appeal here
---